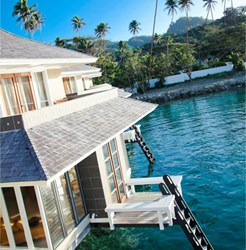 Top-rated Koro Sun Resort is offering all new bookings traveling in 2014 a 50% discount when booked by January 21st, 2014. Koro Sun recently expanded their Waterfront properties and vacation packages.
Savusavu, Fiji (PRWEB) January 17, 2014
Koro Sun Resort recently announces extension of 50% off sale for all-inclusive bookings made by January 21st, 2014.
Also, from now through March 31st, 2014, all of Koro Sun's accommodations are 30% off normal rack rates for guests who stay more than three days. For those staying a week or more, Koro Sun is offering the 30% discount plus a $200 credit good for Island Hoppers airfare, Rainforest Spa services, meals, beverages, and add-on packages.
Koro Sun recently celebrated the grand opening of its new Edgewater Lagoon, made of up Villas and Bures. The villas can accommodate up to four guests, and features a kitchenette and dining room. Each villa offers a media room with foldout sofa, and an upstairs master suite. Outside, there's a private plunge pool surrounded by a garden, and a sundeck with easy ocean access. The roomy Edgewater Villas are the accommodation of choice for visiting families. Travelers to Fiji will quickly find out that the new Edgewater Bures available for adults only are perfect for couples with romance in mind. Koro Sun Resort is absolutely one-of-a-kind when it comes to deluxe accommodations over the water.
Since being featured on NBC's The Bachelorette, Koro Sun has gained a reputation as an ideal setting for romance, but the resort offers plenty to keep families entertained, as well. In addition to complementary activities, guests can opt into the Family Fun Package, which includes a guided snorkeling trip, a kayak expedition to Bat Island, a trip to a local village, and a waterfall excursion.
Koro Sun also provides parents of children aged from infants to 5 years with a complimentary nanny service. For kids aged 5-12, there's the "Bula Buddy" program, through which childcare professionals keep older children engaged with a wide range of entertaining activities.
About Koro Sun Resort:
Koro Sun's northern unspoiled location offers the genuine warmth and friendliness of the Fijian people, beautiful lush tropical surroundings, and warm, impossibly clear waters. The twenty-nine private bures and villas at Koro Sun Resort feature spacious, individually appointed décor, and all are fully air-conditioned. Your stay defines the term "all-inclusive" – from airport transfers to bountiful gourmet fare, and a flurry of non-motorized water sport activities. Beverages are additional. Koro Sun has been featured in the Los Angeles Times, Brides Magazine, Islands Magazine, and on ABC's The Bachelorette. For more information on Koro Sun Resort, visit their website here: http://www.korosunresort.com/.