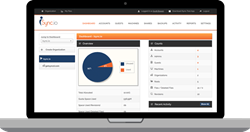 HIPAA compliance is a hot topic issue with many of our clients. iSync.io solves this concern.
Cary, NC (PRWEB) March 05, 2015
InfTek, Inc. has launched iSync.io (http://isync.io), a newly available file sharing, sync and cloud storage service designed specifically for businesses with a focus on administration and security. The iSync.io service is powered by sister company GetSync'd (http://getsyncd.com), an established and well-reputed cloud-based SaaS provider offering hosted Kerio Connect, hosted Kerio Operator, GetSecure, and more.
Business-Class Alternative to Consumer Cloud Storage
Companies looking for a business-class alternative to Dropbox or Google Drive and similar consumer file sharing cloud storage tools with just a few features and without adequate control to minimize risk are invited to try the free trial. iSync.io is particularly popular to those who want to say goodbye to cumbersome FTP or VPN options because of security concerns as they can benefit from the numerous security features in iSync.io, which includes 256 bit AES military grade encryption, encrypting files while in-transit as well as at rest.
An iSync.io subscription lets authorized users to access, share, edit, and sync files across all Mac and Windows as well as free mobile apps for iOS, Android, and Windows mobile operating systems. The solution provides a robust administrative console as well as file restore and remote wipe features that protect companies when equipment is lost or stolen as well as when an employee leaves their organization.
HIPAA-Compliant Sync, File Sharing, and Cloud Based Storage
Privacy, security, and simplicity were top concerns considered during the design of the iSync.io secure desktop sync, file sharing and cloud storage solution, "Companies need simplicity so that their tools can easily be deployed and adopted. They also need security and privacy. HIPAA compliance is a hot topic issue with many of our clients that use us for email encryption and archiving and iSync.io solves this concern for them when it comes to sharing and sync'ing files across devices. iSync.io provides fine-tooth administrative total control via an intuitive Admin Control Panel to manage users, devices, and to control who employees are sharing data with" says InfTek CTO, Mike Schaffner.
The iSync.io features page lists a variety of bells and whistles not available on many tier-1 consumer tools, such as:

Enforce custom organization policies
Restrict file extensions
Assign storage quotas
Generate triggered alerts
User desktop backup to cloud
2-factor user authentication
Auto locks during editing
Deleted file recovery
And more
iSync.io CEO Kevin Davy added that "Because the solution is scalable, it suits companies as they grow or their needs change. We have several iSync.io pricing levels for teams up to 4 users, offices from 5-9 users, and business plans for companies that want access to 10+ up users and subscription plans start at just $8/user monthly. The product can even support sharing files and folders with free guest users, putting security features and the ability to limit the number of downloads and notification upon download."
The fully functional iSync.io free trial for up to 4 user seats and up to 10 GB of storage per user is available at http://isync.io for 7 days with no credit card required.
About iSync.io
iSync.io is owned by Inftek Inc., a Cary, NC-based technology company that pioneered Kerio Connect email and business collaboration hosting solutions through their DBA GetSyncd.com. Inftek, Inc. was founded in 2006 by COO Scott Bowen and CEO Kevin Davy.
iSync.io shares information on their website and blog about the many features and benefits of leveraging a business-class file sharing and cloud storage solution at http://isync.io/blog/.