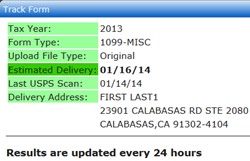 Mail Tracking is the solution to the commonly asked question "Where's my 1099?"
Los Angeles, CA (PRWEB) January 17, 2014
http://www.eFileMyForms.com, a popular online destination for printing, mailing, and filing 1099, W-2, & 1042-S tax forms, announces Mail Tracking for all 1098's, 1099's & W-2's printed and mailed through eFileMyForms.
Mail Tracking provides the answer to the commonly asked question "Where's my 1099?" that plagues filing entities during the tax season. eFileMyForms' customers can now use Mail Tracking by selecting the "Track" option to view when and where their 1099/W-2 was last scanned. Mail Tracking even provides an estimated delivery date for those who require an immediate update. The tracking service also features continual updates, listed every 24 hours, at no extra cost to customers of eFileMyForms.
While Mail Tracking technology provides evidence of the date of delivery; it does not provide proof of delivery because carriers do not scan Intelligent Mail barcodes at recipients' delivery point. Mail Tracking is designed to provide all Print & Mail customers with the last automated processing scan; which can help indicate an estimated delivery time.
For those who are not familiar with the company, eFileMyForms.com is the leading provider for filing 1099-MISC forms online and filing W-2 forms online. eFileMyForms.com also supports the full range of form series 1098, 1099, 5498, W-2, W-2G, & 1042-S forms. Mail Tracking represents the continuance of a tradition for innovation that started when eFileMyForms leveraged an agreement with TINCheck.com to provide individual TIN/name matching services to all customers for only $1/form.
Last year, when eFileMyForms.com announced the availability of TIN / Name Matching via an agreement with TINCheck.com, represented the first year that an online filing entity was able to provide such a service. This year eFileMyForms' SSAE 16 Certified facilities will continue the tradition of operating day and night to accommodate any customer who is struggling to submit 1098, 1099, or W-2 information returns by the federal deadlines.
ABOUT EFILEMYFORMS.COM
eFileMyForms.com provides secure print, mail, and efile services for 1099, W-2, and 1042-S tax forms, including 1099-MISC. eFileMyForms.com's decades of filing experience provides customers with services and features found nowhere else.