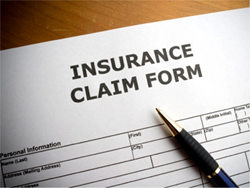 The time after a burglary is a scary time, knowing how to file a proper insurance claim will help you get the most out of your loss.
Baltimore, Maryland (PRWEB) November 28, 2013
Dealing with a theft at home is a stressful and difficult situations, and sometimes even more difficult is dealing with the insurance company to recoup losses that results from the theft. Insurance companies tend to be reluctant to pay these costs, but if your claim is well put-together, you have a higher likelihood of receiving compensation. AlarmSystemReport.com, a site that provides alarm system reviews of the best alarm system companies in the country, has created a list for people to follow after a homeowner's insurance claim resulting from theft.
1. The first step is to file a police report immediately. If a police report isn't filed, it's highly likely an insurance company will deny the claim. Before filing a police report, create a detailed list of all items stolen, along with a description.
2. Immediately after speaking with the police, contact the homeowner's insurance policy company. A claim representative should contact the person filing the claim, at which point they'll give them a copy of the policy report and any other relevant information.
3. Be aware of what's covered by a homeowner's insurance policy. All coverage and policies are different, and there are going to be limits and exclusions.
4. If possible, collect the receipts associated with the stolen items. If it's not possible to obtain the actual receipts, it may be a good idea to get together the canceled checks, bank statements or credit card statements that reflect these items.
5. Complete all claims forms completely. Insurance companies can use any mistake or missing information as a reason to deny a claim. It's also important to return the completed claim as quickly as possible to the insurance company, and the homeowner should also obtain a copy.
6. It may be necessary to follow up with the insurance company frequently. Each time a homeowner calls about the status of the claim, they should record the date and time they called, as well as the person they spoke with and their contact information and job title.
7. After completing a claim, homeowners who have been the victim of a theft should consider the installation of alarm systems. They can not only help prevent a future problem, but can lower the cost of homeowner's insurance.
About AlarmSystemReport.com
AlarmSystemReport.com is the leader in providing independent, unbiased information about the home alarm industry. The site provides information about security system companies throughout the country, from Hawaii security systems to Maryland security systems. In addition to information and reviews, site visitors can also access valuable coupons and discount codes.