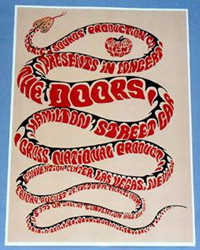 There were two different concert posters created for the 1967 doors Las Vegas concert.
San Francisco, CA (PRWEB) February 24, 2015
Avid collector, Andrew Hawley from Vintage Rock Posters, announces his search for original 1967 The Doors Las Vegas Convention Center concert posters. The Doors played in Las Vegas twice. The first Doors Las Vegas concert was held on August 25, 1967.
According to Hawley, "By 1967, the Doors were one of the top rock bands in America. According to the local reviews, the Doors put on a great show. The promoters, Scenic Sounds Productions, insisted that the audience wear shoes. The audience left a large amount of shoes when they exited the convention center. The show goers must have bought every secondhand shoe in the local Goodwill shops in town. Two concert poster versions were printed for the 1967 Doors Las Vegas concert. One featured a snake like image and was created by noted Fillmore poster artist Gary Weisser. The other version had a circus poster layout featuring large block lettering. The second concert poster was artistically less appealing."
For examples of fillmore era Doors posters, go to http://www.vintageconcertposterbuyer.com/fillmore_era/the_doors.html.
If you happen to have an version of the original 1967 The Doors Las Vegas Convention Center concert posters, Hawley is willing to pay $3,000 cash for each poster. Please call 310-346-1965 or email andrew (at) vintageconcertposterbuyer.com.