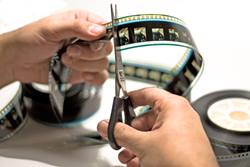 (PRWEB) August 31, 2014
Video Caddy, one of the world's premier audio and video editing companies, is offering any business a cost-effective way to outsource their video re-editing jobs to some of the most experienced professionals in the field, ensuring that audiences of any brand see nothing but great, curated content.
The world of video re-editing is big business, with the aviation industry alone spending up to $20m every year on their inflight entertainment content – and it's not just airlines that must re-edit their content. Movie shops, private clubs and creative individuals must all go back over their in-house content and ensure it's appropriate – not just for one audience, but for global viewing. But re-editing for such a wide variety of audiences can be complicated, time-consuming and requires a degree of detail that many businesses simply cannot afford to give without compromising on their service levels.
Video Caddy offers a solution. With the creative nous and the expertise on hand to edit even the most demanding film and make it suitable for any audience across the globe, their film re-editing services incorporate everything from removing objectionable content to censoring rival brands. Whether the client is an airline wishing to remove unsuitable content from their in-flight film, or a wedding agency removing a scene with a visible camera from a precious wedding video, re-editing is crucial to ensure that audiences are satisfied with what they see.
The team of professional editors at Video Caddy have been editing creative files for more than a decade and have accumulated the knowledge and the skill required to work with everyone from corporations and movie production houses to wedding agencies and individuals. With proficiency on both Windows and Macintosh platforms, as well as cost savings of an estimated 60% on similar services, outsourcing to Video Caddy is the sensible solution.
A spokesman for Video Caddy says, "Outsourcing your film re-editing jobs to us is the smart thing to do. It will save time and 60% of your money, and you won't need to hire any new employees or splash out on top-of-the-range equipment. We understand that your in-house video content is crucial to how your brand is perceived, and we'll work round-the-clock, six days a week to ensure your project is delivered right on time, exactly the way you want it."
He adds, "No job is too large or too small for the team here – our scalable service takes on one-off jobs and long-term contractual work for some of the world's largest brands. By outsourcing this time-consuming but mandatory part of your business to Video Caddy, you guarantee cost-efficiency, high-quality work and prompt delivery of all projects."
All Video Caddy clients receive the same stellar service, whether they've commissioned the re-editing of one single short film, or the total revamp of a brand's entire in-house video content. The skilled workforce carry out the task efficiently and to the highest standard, using cutting-edge technology like Final Cut Pro, Edius Pro and Premier Pro. A dedicated account manager gives clients regular updates and a single point of contact for all correspondence regarding the project, and Video Caddy can put together bespoke quotes and packages that combine hourly pricing, project pricing and FTE pricing to create a cost-effective proposal.
To find out more about Video Caddy's film re-editing services, visit the website: http://www.videocaddy.com/
Editor's Note: Issued by Dakota Digital. For more information please contact Rebecca Appleton. Email: rebecca(at)dakotadigital(dot)co(dot)uk.