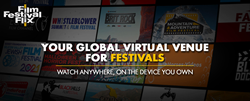 After a rigorous audit and assessment of our platform, Film Festival Flix's security protocols have been validated by Convergent Risks, a leading provider of governance, risk, and compliance services for the media and entertainment sector.
LOS ANGELES (PRWEB) January 10, 2023
As we launch into the first quarter of 2023, Film Festival Flix is pleased to announce an exciting new development concerning the enhanced security of our Virtual Venue solution and the direct implications it has upon our client's content hosted on our streaming platform. After a rigorous audit and assessment of Film Festival Flix's platform, our security protocols have been validated by Convergent Risks, a leading provider of governance, risk, and compliance services for the media and entertainment sector.
As a platform that has hosted thousands of films and other forms of streaming content, Film Festival Flix recognizes the importance of content security. There is an absolute necessity of maintaining an environment where festivals, filmmakers, and rights holders are free from concern of content being compromised by less than dependable security protocols.
To that point, Richard Atkinson, President of the Content Delivery & Security Association, offers that, "The Content Distribution & Security Association (CDSA) fully supports and encourages the use of Trusted Partner Network (TPN) Security Assessments across our M&E Supply Chain, as one key component in validating how well companies are addressing the areas of Prevention, Detection, and Response to Content Security. Simply put, the majority of companies across our supply chains are not in the business of security and so these assessments help provide a "framework" of Best Practices specific to their area that help them understand how to have a solid approach to security… and for content owners to understand the maturity of this security and associated/implied risks."
To ensure that our practices are in step with top-of-the-line industry practices, Film Festival Flix contracted Convergent Risks, an approved Motion Picture Association (MPA) and Trusted Partner Network (TPN) assessor, to test and analyze Film Festival Flix's overall content security as a platform. What followed was a rigorous, eighteen-month assessment of the platform's security protocols involving a penetration test to identify any potential breach points of weakness. Additionally, an audit of each of our cloud-based environments and physical site protocols was measured against the MPA/TPN established best practices, followed by the remediation of any identified areas of concern.
At the end of the process, Film Festival Flix has demonstrated the level of security mandated by the major studios and is now an approved film vendor of NBC/Universal and others. Of the need for security that meets industry standards, Film Festival Flix President and Founder Benjamin Oberman said, "Virtual events are now established and accepted at all levels of the entertainment industry. Being able to securely host studio and independently produced content alike, allows us to better serve all festival and event clients."
Regarding content security and platform validation, Ruth Vitale, CEO of Creative Future says, "The economic value of a film depends completely on copyright protections. Additionally, those same copyright protections are important for audiences since pirated content can expose audiences to risk of identity theft and malware."
Vitale also points out that, "Every year, digital video piracy costs American workers 230,000-560,000 jobs and takes $47.5 billion-$115.3 billion from the U.S. economy. Major studios cannot withstand the onslaught; much less so indie filmmakers, who often hope only to break even. For festivals – and, really, all screenings – it is imperative that online platforms meet the highest security standards. Outside of the safeguards provided by the Trusted Partner Network, there is little hope of preventing catastrophic losses due to massive piracy."
Oberman adds that, "A 3rd party security assessment by an MPA / TPN approved assessor is the only way that a content licensor truly knows if a platform is validated as secure. It is everyone's right and responsibility to ask if an assessment has been done on the platform, ask for a copy of the final report, review the report, and ask questions about items that may be confusing."
Film Festival Flix empowers all Festivals, Artists, and Audiences through a secure user-friendly streaming platform For more information about our Virtual Venue solution, and upcoming events, please visit FilmFestivalFlix.com
###