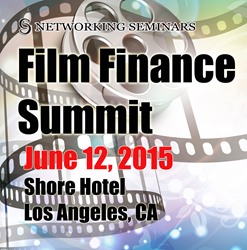 This Summit is an excellent opportunity to brush up on the current trends and network with top professionals.
Los Angeles, CA (PRWEB) May 25, 2015
On Friday, June 12, 2015 the film and television industries will converge at Networking Seminars' 8th Annual Film Finance Summit at the Shore Hotel in Santa Monica, CA. Now in its eighth year, Networking Seminars' Film Finance Summit has become the place where academy award winning power players in the film industry converge to discuss the most financially productive ways for financing film, TV and content across multiple platforms. The Film Finance Summit can fuel creative ambitions and provides the opportunity to network with senior level executives involved in motion picture development, production, acquisitions, marketing, distribution and international licensing. Establish long-lasting relationships and learn the latest trends and innovation in financing content domestically, internationally and virtually.
The panelists at this year's Film Finance Summit are the producers, distributors, marketers and financiers behind many recent box-office hits and Academy Award winning productions. Included are: David Dinerstein, who recent successes include David O. Russell's "American Hustle," Spike Jonze's "Her," and "Foxcatcher." Dinerstein has been responsible for distributing many of the most significant independent films in the past 20 years and launched the careers of numerous iconic filmmakers including Quentin Tarantino, Steven Soderberg, Paul Greengrass, Justin Lin, Sofia Coppola, Baz Luhrman, Jane Campion and Kevin Smith; Dinerstein was responsible for releasing such highly acclaimed and award-winning films as "Pulp Fiction," "The Piano," "The Crow," "sex, lies and videotape," "The Crying Game," "My Left Foot," "Cinema Paradiso," and "Reservoir Dogs," to name a few; Lonnie Ramati, EVP at Millennium Films, Inc./Nu Image and co-executive producer on many motion pictures including: "The Expendables 3," "Before I Go To Sleep." "Good People," "The Legend of Hercules," "Olympus Has Fallen," "Killing Season," "The Iceman," "Homefront," "Lovelace," and "The Big Wedding."
Lucie L. Guernsey has over 25 years of credit, financial and banking experience in the global Media and Entertainment Industries will address funding for film and television projects along with financiers David Acosta, who is SVP at City National Bank and runs the Film, TV and Media Group; David C. Friedman, EVP for Lions Gate Entertainment and Summit Entertainment, who recently concluded a ground-breaking slate financing and distribution transaction with a large Chinese Film & Television Company and Peter Graham of 120db films, who has been involved in financing up to 350 independent movies including the television series "Leverage" and "True Justice" and movies including "Kingdom of Twilight," "Spartan," and "Monster," to name a few.
Veteran entertainment lawyer, David Steinberg, will kick off the Film Finance Summit with an overview of the process of acquiring funding for a film or TV production including essential elements such as budgets, letters of intent, script, chain of title, option agreements and other key production agreements. David Steinberg is partner at Dentons LLP in Canada and will also discuss international co-productions.
This long running event brings together a senior roster of studio executives and legal and tax advisers to share practical experience and technical knowledge on the complex issues involved in financing film and televisions productions. For more information visit http://www.filmfinancesummit.com or call 877-500-1510.
About Networking Seminars Inc.
Networking Seminars brings together an international community of industry professionals to cultivate new business ideas and build business relationships. For additional information call 877-500-1510 or visit http://www.networkingseminars.com