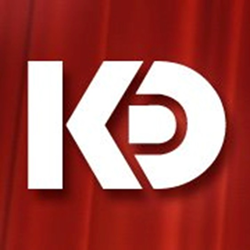 A Leader in Acting, Musical Theatre, and Filmmaking
Dallas, Texas (PRWEB) November 27, 2015
KD Conservatory has been preparing students for work in the entertainment industry through their acting, musical theater, and filmmaking programs (http://kdstudio.com/) for more than three decades. Since their inception in 1979, they have sent thousands of students into the professional world. KD alumni have gone on to land some pretty high-profile jobs - Glee, CSI, and Disney′s Camp Rock, just to name a few. KD also offers acting classes and workshops for adults, as well as acting classes, modeling classes, and summer camps for children.
CONGRATULATIONS TO KD ADVISORY BOARD MEMBERS
RICK JAFFA AND AMANDA SILVER
Rick Jaffa, along with his wife and creative partner Amanda Silver, have written and produced the two most recent blockbuster films, Jurassic World and Dawn of the Planet of the Apes. Other producing/writing credits include, Rise of the Planet of the Apes, The Relic and Eye for an Eye, and Avatar 2 and 3.
November marks the release date of the film, SICARIO
Julio Cedillo, a 1990 KD graduate, has a new movie opening in November. Julio has become a successful actor working in films with stars such as, Tommy Lee Jones, Harrison Ford, Ed Harris and Eva Longoria to name a few.
Julio has also been featured in series such as, The Walking Dead and The Bridge. His acting performance career has continued over two decades. Cedillo's latest film, Sicario, opened in November, a new thriller starring Emily Blunt, Josh Brolin and Benicio del Toro. Sicario is being touted as one of the films getting Oscar attention.
KD Grads are on and off the gridiron in the November release of the film, Carter High. During the 1980s Carter High School in Dallas, Texas was a football powerhouse. This is the story of four of the student athletes whose off the field activities cost them their future.
National Casting Search
Director/writer, Arthur Muhammad and Casting Director La Toya Muhammad searched from LA to NY to find the perfect cast. KD Conservatory is proud of their filmmaking program (http://kdstudio.com/) students who made the cut. Look for Eric Window, Rob Hudspeth, Evan Horsley, Lynn Andrews III, Ayanna Edwards, and Timothy Walter in this real life drama that became a national news story and destroyed the lives of potential football stars.
Chase Ryan Jeffery has been busy ever since graduating from KD with a degree in Acting Performance. He has been cast in television series such as, Nip/Tuck, NCIS, Cold Case, CSI, The Unit, Without a Trace, Morganville: The Series. Currently you can find Chase in the soon to be released feature films, Uploaded, Persephone, Fallen Dancer and Shanty Town.
Another KD graduate, Amy Argyle, can be seen in the features; G-Code, Frank and Lola, Scream at the Devil, and the television series, Battle Creek, Parenthood, Bones, and the United States of Tara.
Taking His Comedy Act to Europe
John Clark graduated from KD Conservatory and hit the road. John is a stand up comedian who regularly performs at The Laugh Factory and Improv comedy clubs in the Los Angeles area, and headlines clubs and colleges all across the country. John trained under Groundlings Improv instructor Randy Bennett, and was a founding member of the successful touring Improv group "Section 8 Comedy" in Dallas, Texas. He holds an Associates of Applied Arts Degree in Acting Performance from KD Conservatory in Dallas.
In addition to his extensive standup and improvisational comedy
experience, John's acting roles include several episodes of Walker, Texas Ranger, The Dating Game, FBI Files, Pit Boss, and Interpol.
John Clark's, The Kindness of Strangers, European Comedy Tour, 2015
Kinna McInroe lights up the screen again in the premier episode of CBS's new series, SuperGirl! Kinna graduated from KD Conservatory and headed to LA where she has been featured in CSI, Hawaii 5-0, Strong Medicine and Bernie Mac. Some of her films include, Office Space, Where the Heart Is and Elsewhere.
KD to LA
After taking short courses in Acting from KD Studio, Trey Tucker set his sights on Los Angeles. Within a short time, Trey was signed with an agent at APA (Agency for the Performing Arts) in LA and was recently cast in the film, The Space Between Us, starring Gary Oldman.
Natali Jones was born and raised in Garland, Texas. She found her love in acting her senior year in high school. After graduation she enrolled in KD Conservatory (http://kdstudio.com/) and received an Associates Degree in Acting Performance. She has been involved in over 27 feature films and owns two production companies, Rider Films and Musika Productions. Musika focuses more on the music side of the industry while Rider produces feature films. She loves every aspect in front and behind the camera, from acting to producing – and music, and…she's only getting started!
Soon to be Released, The Shelter
Another KD Graduate who has found success in films is, Gayle James. Gayle was cast in the soon to be released feature, The Shelter. She is also known for Finding Jenua, Time and Bad Country.
Also look for these KD grads…
Dominique Edwards as one of the principals in, The Gosnell Movie
Megan Ellisor – currently in The Lion, The Witch and The Wardrobe in London
Christopher Williams – principal in a national SAG commercial for AT&T
David Glover – 2 commercials for the American Heart Association
Carlos Lozano – Season II, Dusk to Dawn
Richard Carpenter – Listening Glass, Seattle Immersive Theatre
10-YEAR-OLD DALLAS COMEDIAN SAFFRON HERNDON STARTED HER ACTING EXPERIENCE WITH KD STUDIO
Saffron Herndon started classes with KD when she was only 8-years-old. In October 2015, Saffron was on the Jimmy Kimbell Live Show and The Today Show. Since then, media outlets all over the country have interviewed her. Typically, Saffron performs three nights a week at different comedy clubs in Dallas.
KD Conservatory is extremely proud of all their acting performance (http://kdstudio.com/) graduates and they would love to recognized your accomplishments as well. Visit http://www.kdstudio.com/ for more information.
About KD Conservatory
For more than 30 years, KD Conservatory has been dedicated to the development of acting skills and motion picture production technical skills and to the creation of avenues into the professional world of entertainment. A subsidiary of KD Studio Inc., which offers an Associate of Applied Arts (AAA) degree program in acting, KD Conservatory has been rated "Exemplary" by the Texas Higher Education Coordinating Board. The school is accredited by the National Association of Schools of Theatre (NAST). For more information, visit http://www.kdstudio.com.
Located: 2600 N. Stemmons Fwy, Suite 117, Dallas, Texas 75207 | 214-638-0484 | KDSTUDIO.COM