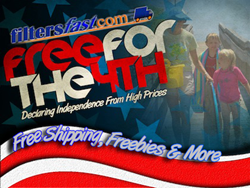 We're offering some amazing deals from Melissa & Doug for the 4th! - Filtersfast.com
Charlotte, NC (PRWEB) July 04, 2013
As the leading online retailer of water filters and air filters, Filtersfast.com continues their "F-R-E-E for the 4th" promotional celebration by presenting amazing deals of the day from Melissa & Doug for consumers with children. The Melissa and Doug product line of learning toys and games will steer parents towards gifts that will suit their child's skill levels ideally. They offer the best gifts from learning toys for preschoolers and toddlers, to advanced crafts and games for older children. In addition to the Melissa & Doug promotion, Filtersfast.com will pick up the shipping costs for any order of $75.00 or more purchased from their entire website through July 8, 2013.
Melissa & Doug provide the highest quality sand, beach, pool and bath toys made with care. The company manufactures something for children of all ages and offer products with superb quality, design and value. The company's headquarters is located in Wilton, Connecticut. Children enjoy spending time at the pool or beach and find the greatest enjoyment with things that keep them engaged. During this "F-R-E-E for the 4th" promotion, customers will receive a free Soak & Seek Kids Pool Toy with any Melissa & Doug beach or pool toy on Filtersfast.com.
The philosophy of Melissa & Doug has remained the same since their humble beginnings. Their belief is to make each and every customer happy, and a permanent member of the Melissa & Doug Family. Customers can find the wide assortment of Melissa & Doug pool and beach toys on the Filtersfast.com website.
Filtersfast.com strives to add to their customer's overall quality of life by simplifying a sometimes mundane, yet very necessary task. Since 2004, the company remains fully committed as the authoritative resource in water filters and air filters, by offering first-rate products at the best competitive prices, with expert advice. For more information about their wide range of Melissa & Doug pool and beach toys, air filters, refrigerator filters and other replacement filters, visit their website at http://www.filtersfast.com or call customer service at 1-866-438-3458.