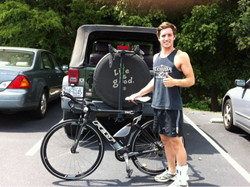 We make work a priority in our lives. Itshould be like that when it comes to some sort of exercise. You work for a living, and to live you need to have some form of physical activity. - Greg Shore, NC and USA Triathlete
Charlotte, NC (PRWEB) September 05, 2013
Not only is Filtersfast.com the leading online retailer of air filters and water filters, but the company is also an advocate of promoting healthy living. They initiated their healthy lifestyle campaign in January 2013 to relay this New Year's message to their customers as well as their employees. When Filters Fast decided to support and rally behind Triathlete Greg Shore, who is the accountant for the company, corporate executives recognized how instrumental he was in helping to promote their healthy living initiative. Greg is one of the faces and voices for some of the company's healthy lifestyle segments. It came as no surprise when Greg announced that he was selected as one of the athletes to represent the USA and compete in the London Triathlon World Championship during the September 11-15 competition.
Two weeks ago, everyone in the company held their breath when they received word that Greg was participating in a weekend cycling race and was suddenly T-boned by a truck. The accident sent him to the hospital with bruises and a sprained ankle. His race bike, helmet and uniform were a total loss. What could have resulted as a devastating tragedy, when the impact of that truck threw him several feet off of the road, turned out to give Greg the adrenaline he needed to refocus and get back into shape, under the careful supervision of his doctor of course. Greg is an advocate of healthy living and if he was not in tip top shape prior to his accident, the consequences could have been far worse.
"As I lay on the road, I thought I could very well be paralyzed," says Greg. "I instantly asked God if that was my new road, please give me the strength to live that lifestyle. But it was not and for that I'm rejuvenated and ready to roll!" Greg's contagious wit and dedication impressed and inspired the entire workforce and without his commitment to living a healthy lifestyle, the outcome could have been different for him mentally, physically and spiritually. "We make work a priority in our lives. It should be like that when it comes to some sort of exercise. You work for a living, and to live you need to have some form of physical activity," Greg advises. Follow Greg's London journey and "LIKE" the Filtersfast "Shore to Shore: Greg's Trek to London Facebook Page" https://www.facebook.com/gregshorelondon for daily updates.
About Filtersfast.com:
Since 2004, Filtersfast.com remains steadfast as the authoritative resource for consumers regarding the importance of changing residential and commercial water filters and air filters on a regular basis. The company strives to add to their customer's overall quality of life by offering first-rate products at the best competitive prices. For more information regarding their large assortment of filtered water bottles, filtered water pitchers, refrigerator, air or pool and spa filters, visit http://www.filtersfast.com or call their Customer Experience department at 1-866-438-3458.