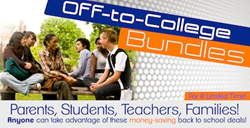 You don't need a student ID for these deals! –Filtersfast.com
Charlotte, NC (PRWEB) August 07, 2013
In the midst of the Back-to-School frenzy, Filtersfast.com, the leading online retailer of air filters and water filters, promotes their "Off-To-College Great Savings Bundle" campaign during the month of August. These exclusive deals featured in this Back-to-School promotion, helps parents and students select convenient packages that won't break the bank.
The Filtersfast.com Off-to-College Bundles feature eight cost-effective collections containing practical items that students can use beyond college. The "You & Me Bundle Deal" includes a PUR and Brita Water Filtration Pitcher. This is an ideal package to split and give one pitcher to the student, while the gift giver can keep the other for themselves. The "Great Savings Bundle" consists of the 3M Filtrete 4-Bottle Water Station and the Holmes HEPA Mini tower Air Purifier. This package is a combination of promoting a healthy lifestyle with affordable air and water filtration. The "4 for Less Bundle" includes an assortment of 3M Small-Medium-Large Command Hooks and Strips, along with the Brita Blue Filtered Water Bottle. The 4 for Less package is perfect for helping college students get their dorm rooms organized. Additional Back-to-School Bundle packages are available to choose from.
In addition, students aren't the only ones who can benefit from these amazing deals. Parents and teachers can take advantage of the tremendous savings as well. Some bundle packages will save consumers as much as $40 if sold separately. The Off-To-College Great Savings Bundles promotion will continue throughout the month of August, or while supplies last. If customers want to customize their packages, individual selections can be made from an array of air purifiers, filtered water pitchers, humidifiers or filtered water bottles.
Filtersfast.com remains committed as the authoritative resource for consumers regarding the importance of changing residential and commercial air filters and water filters on a regular basis. The company simplifies a sometimes mundane, but very necessary task, by helping customers understand the importance of regular water and air filtration maintenance. They strive to add to their customer's overall quality of life by offering first-rate products at the best competitive prices. For more information regarding their Off-to-College Great Savings Bundles promotion, along with their line of water filters, refrigerator filters air filters, humidifier filters, pool and spa filters or faucet filters, visit http://www.filtersfast.com or call their customers service department at 1-866-438-3458.