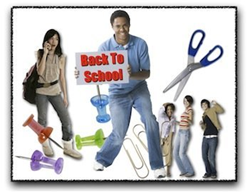 You have enough to worry about for Back-to-School supplies. We help with the things you probably didn't think about. – Filtersfast.com
Charlotte, NC (PRWEB) August 02, 2013
Filtersfast.com, the leading online retailer of water filters and air filters announces their "M2 = P2 Back-to-School Campaign." The Mix & Match = Perfect Pair (M2 = P2) Campaign gives parents or individuals who plan to give gifts to new or returning college students, an opportunity to present them with practical items for organizing their dorm rooms, as well as items to add to their health and well-being.
The "M2 = P2 Back-to-College Campaign" offers additional items at affordable prices, that students may need and what parents may not think about. With tuition, books, personal computers, clothes, electronics, spending money and the typical supplies for first time or returning college students, preparing for college creates an insurmountable amount of stress for students and even moreso for parents. The Mix & Match = Perfect Pair Promotion offers items in categories from water filtration, air purification and even organizing necessities from 3M Command. Choices for pairings include some of the following items: 3M Command Hooks and Clips, Brita Space Saver Water Filter Pitcher, TrueAir Plug Mount Odor Eliminator, Vapur Collapsible Water Bottles, Filtrete 4-Bottle Water Filtration Station, ZeroWater Water Pitchers and filter replacements, Holmes Mini Tower Air Purifier and Vicks Cool Mist Humidifier. Filtersfast.com provides assistance for questions about making the best choices for individual needs.
Filtersfast.com remains the authoritative resource regarding the importance of changing residential and commercial air filters and water filters on a regular basis. The company strives to add to their customer's overall quality of life by offering first-rate products at the best competitive prices. By simplifying a sometimes mundane, but very necessary task, customers will find that regular water and air filtration maintenance will help home and commercial systems run at their optimum performance. For more information regarding their line of air filters, water filters, refrigerator filters, humidifier filters or Back-to-School ideas, visit http://www.filtersfast.com or call their customer service department at 1-866-438-3458.