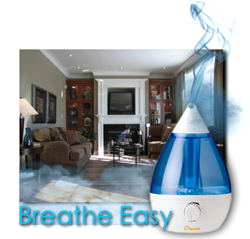 Our products are functional and efficient at fulfilling your home improvement needs while communicating an appreciation for elegant design. -Crane USA
Charlotte, NC (PRWEB) August 28, 2013
Today, Filtersfast.com, the leading online retailer of air and water filtration, promotes the "Breathe Easy" Features of the Day Event, featuring humidifiers from Crane USA. Since 2005, Crane USA has taken the lead in putting the "fun" element into their cool mist humidifiers, air purifiers and space heaters, by simply following their mantra, which is to design for better living.
Crane discovered that there is not an element of excitement among consumers when discussing humidity, heating solutions or air quality. "Our products are functional and efficient at fulfilling your home improvement needs while communicating an appreciation for elegant design. Furthermore, our unique sense of design and unwavering commitment to quality allows us to continue to create our own distinctive interpretation of humidity, air quality, and heating solutions while remaining a step ahead of the crowd," echoes Crane.
Included in today's "Breathe Easy Features of the Day" promotion, Filtersfast.com is offering the Crane Ultrasonic Drop Shape Cool Mist Humidifier, the Digital Germ Defense Humidifier and the Adorable Animal Cool Mist Humidifiers. The Drop Shape Cool Mist Humidifier is available in shades of blue, white, green, orange and pink. This humidifier provides relief for dry skin and symptoms associated with coughs, colds and the flu. In addition, it is ideal for room sizes up to about 250 square feet. The Adorable Animal Humidifiers operate in the same manner as the drop shape, but is available in cute animal designs that are ideal for a child's room. They are offered in a cow, dog, frog, penguin, monkey, owl, duck, pig, elephant, panda or Hello Kitty animal design. The Crane Digital Germ Defense Humidifier contains antimicrobial protection that will fight any mold and mildew from growing in the humidifier tank to keep it from being released into the air. The reason why a humidifier is such a sound investment is because they offer skin, furniture and germ protection.
Since 2004, Filtersfast.com remains steadfast as the authoritative resource for consumers regarding the importance of changing residential and commercial water filters and air filters on a regular basis. The company strives to add to their customer's overall quality of life by offering first-rate products at the best competitive prices. By saving customers time and money, they simplify a sometimes mundane, but very necessary task. Helping consumers understand the importance of regular water and air filtration maintenance is the company's primary mission. For more information regarding their large assortment of humidifiers, water filters, air filters or pool and spa filters, visit http://www.filtersfast.com or call their customer service department at 1-866-438-3458.