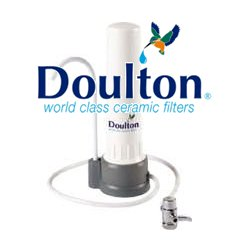 Doulton Ceramic Filters are the best because they are very simple, very reliable and they're also very high performance. – Tim Evans
Charlotte, NC (PRWEB) July 15, 2013
As the leading online retailer of water filters and air filters, Filtersfast.com promotes the best water quality technology through Doulton® World Class Ceramic Filters. At the recent WQA Aquatech USA 2013 Conference in Indianapolis, Dee Rubina, Marketing Manager for Filtersfast.com interviewed Tim Evans, Business Development Executive for Doulton® Water Filters about why Doulton® Ceramic Filters are a good investment.
Fairey Industrial Ceramics Limited (FICL) is the sole manufacturer of the world famous range of Doulton® Ceramic Drinking Water Filters. Providing safe, healthy, great-tasting drinking water wherever and whenever consumers need it is the basic principle behind the company's line of products. When asked why choose a ceramic water filter, Tim Evans noted that they can be used for field or domestic use. He goes on to state, "A ceramic filter is micro-porous, which is a range of microscopic pores where water can pass through, but the contaminants cannot. The inside of the filter contains a carbon block, which removes dissolved chemicals. If there are any particles in the water, those particles can be sediment, turbidity or harmful bacteria such as E.Coli, it can be filtered out. A ceramic filter with a carbon block inside will help to improve the taste of your water, such as a SuperCarb or UltraCarb Filter."
The taste of tap water is the reason why people do not want to drink tap water. By passing this water through one of Doulton®'s pressurized water filters, bad taste can be stripped out in order to get good tasting water. When asked why Doulton® Ceramic Filters are the best, Tim states, "The strength of our filters is the really fine porous materials that we filter down to such a fine level. That means we can take out literally any particles in there that we don't want you drinking. They are very simple to use, are cleanable and you can take them out and clean them yourself. They extend the life of the product, are very simple and they don't require electricity supply." The company has been in business for over 180 years.
Filtersfast.com remains committed as the authoritative resource for informing customers about the importance of changing their air filters and water filters, since 2004. By adding to their customer's overall quality of life with simplifying a sometimes mundane task as changing air filters and water filters, they offer first-rate products at the best competitive prices. For more information about Doulton® World Class Ceramic Filters, or the wide assortment of refrigerator filters, air filters or pool and spa filters on Filtersfast.com, visit http://www.filtersfast.com or call their customer service department at 1-866-438-3458.