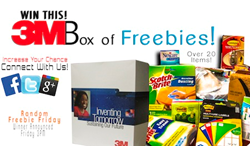 We want to reward some lucky Facebook Fans with cool gifts through our Freebie Fridays Great Prize Giveaway. –Filtersfast.com
Charlotte, NC (PRWEB) August 08, 2013
In observance of Back-to-School and to celebrate their loyal Facebook fan base, Filtersfast.com, the leading online retailer of air filters and water filters announces "Freebie Fridays" Great Prize Giveaways for Facebook Fans. To add to the excitement of their Back-to-School Exclusive Deals Promotion, Filtersfast.com decided to give their loyal social media family an opportunity to win some great prizes.
Freebie Fridays is designed to give away some nice gifts to lucky Facebook fans every Friday. There is no purchase necessary in order to participate in this exciting weekly event. The Great Prize Giveaway guidelines encourage current Facebook fans to interact daily on the Filtersfast.com Facebook page, by "Liking, Sharing or Commenting" on the day's posted content. The more interaction and engagement fans have on the Filtersfast.com Facebook page, the better their chances to win each week. To sweeten individual chances to win, social engagers can also follow and interact with the company through their Twitter, Pinterest and Google + social media sites.
Freebie Fridays begin on Friday August 9, 2013 and will run indefinitely. Fans and followers can check the Facebook page often for trivia, teasers and other great content that will be posted daily. For more information on rules and regulations for the Freebie Fridays Great Prize Giveaway, be sure to refer to the Facebook Freebie Fridays guidelines.
Filtersfast.com remains committed as the authoritative resource for consumers regarding the importance of changing residential and commercial water filters and air filters on a regular basis. The company strives to add to their customer's overall quality of life by offering first-rate products at the best competitive prices. They simplify a sometimes mundane, but very necessary task, by helping customers understand the importance of regular water and air filtration maintenance. For more information regarding their assortment of air filters, water filters, pool and spa filters, faucet filters or humidifier filters, visit http://www.filtersfast.com or call their customer service department at 1-866-438-3458.