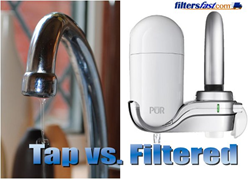 The presence of pathogens and chemicals in drinking water can lead to health problems, such as gastrointestinal illness, reproductive problems and neurological disorders.-CDC
Charlotte, NC (PRWEB) July 30, 2013
As the leading online retailer of water filters and air filters, Filtersfast.com promotes the health benefits of using water filtration systems to remove harmful chemicals that can cause waterborne illnesses. The hazards of waterborne contaminants harm the health of millions of children and adults. Sometimes tap water is not in compliance when meeting minimum EPA health and treatment requirements to avoid illnesses resulting from drinking contaminated water.
According to the Centers for Disease Control and Prevention, the presence of pathogens and chemicals in drinking water can lead to health problems, such as gastrointestinal illness, reproductive problems and neurological disorders. Unhealthy drinking water affects adults and children in different ways. Legal regulations have been set based on the health effects for most waterborne contaminants on the average adult. This poses a special concern for the health of children drinking tap water.
Filtered water pitchers, faucet filters, counter top filter systems, whole house filtration systems and refrigerator filters can enhance the flavor and functionality of tap water, while removing toxins in drinking water and water used for other purposes in your home. Drinking water however, is not the only water consumers should be concerned about filtering. Filtersfast.com promotes countertop filtration systems recommended for food and beverage preparation, as well as shower filters for removing chlorine that can cause rashes, and dries the skin and hair out. Undersink water filter systems can be used to reduce chlorine and other pollutants in tap water that can discolor and turn teeth a yellowish brown color. Outdoor garden filters are great for washing cars to avoid spotting and ideal for enhancing plant, flower and grass growth.
One of the world's most precious resources is clean water. Only three percent of the earth's water is fresh, drinking water. Individuals whose immune systems are compromised because of certain types of medical treatment, medications or diseases, may be especially vulnerable to illness resulting from certain water pollutants.
Since 2004, filtersfast.com remains fully committed as the authoritative resource in water and air filtration. The company strives to add to their customer's overall quality of life, by simplifying a sometimes mundane, but very necessary task. They offer first-rate products at the best competitive prices. For more information about their wide assortment of water filtration systems, air filters, refrigerator water filters, humidifier filters, pool and spa filters, and other consumer filtration products, visit http://www.filtersfast.com or call customer service at 1-866-438-3458.