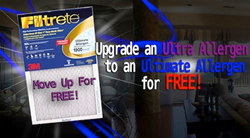 Filtrete™ air filtration captures airborne particles to help your home stay healthy, clean and fresh. –Filtrete Home Filtration Products
Charlotte, NC (PRWEB) January 08, 2014
The New Year kicks off with a step-up air filter promotion from Filtersfast.com, the leading online retailer of air filters and water filters. The company announces the launch of their 3M Filtrete Upgradable Air Filter Promotion from now through February 7, 2014. At no additional cost, customers can take advantage of purchasing a higher performance Filtrete filter for the same price as the lower performing air filter, during this special event from Filters Fast.
3M Filtrete home air filters meet the American Lung Association® Health House® Indoor Air Quality guidelines, which raises the standard for healthier indoor living environments. Their line of products assists in capturing airborne particles to keep indoor air healthy, clean and fresh. During this move-up campaign, customers have the opportunity to upgrade their purchase of the 3M Filtrete (Purple Series) Ultra Allergen Air Filter, to the 3M Filtrete (Deep Blue Series) Ultimate Allergen Filter, at no additional cost.
The Filtrete Ultra Allergen Air Filter has a 1500 Microparticle Performance Rating (MPR). It lasts for approximately three months and captures airborne pollutants such as mold spores, pet dander, pollen, dust mites, smoke and virus-carrying particles. The Deep Blue Filtrete Ultimate Allergen Filter boasts a 1900 Microparticle Performance Rating (MPR) that effectively captures the smallest airborne particles measured in the industry standard test. This allergy air filter provides 25% more air cleaning power than the Ultra Allergen Air Filter. The 3M Filtrete promotion applies to the purchase of individual filters or the 6-pack for added savings from Filtersfast.com.
Since 2004, Filtersfast.com remains the authoritative resource for consumers, regarding the importance of regular water and air filtration maintenance. The company's mission is designed to save customers time and money, by offering first-rate products at the best competitive prices. For more information about the 3M Filtrete New Year's Upgrade Promotion, visit http://www.filtersfast.com or call their Customer Experience Department at 1-866-438-3458.