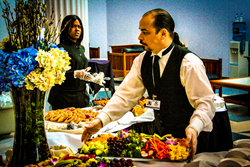 Today we salute all food service workers for National Food Service Employees Day! -Filtersfast.com
Charlotte, NC (PRWEB) September 26, 2013
Today, in honor of National Food Service Employees Day, Filtersfast.com, the leading online retailer of air filters and water filters, commemorates the food industry with some incredible "Deals of the Day" for food and beverage applications. Food service workers are often the most underpaid, overworked and under-appreciated people, working relentless hours to clean up the establishment after patrons have gone home. Commercial and residential consumers can take advantage of a large assortment of sediment, carbon block and string wound water filter cartridges to suit their specifications.
Among the featured specials for National Food Service Employees Day, is the Omnipure ELF-1MP Food Service Water Filter, an extra large format (ELF) replacement inline water filter used in various food service applications. Consumers can save 50% on this Omnipure inline filter replacement, which is made primarily for beverage and ice applications in the commercial food service industry. Additionally, it can also be used in commercial and residential drinking water systems (undersink systems), as a pre-filter or post-filter in compatible reverse osmosis systems, in water coolers and more.
The 3M Aqua-Pure ICE260-S Water Filter System (56245-03) is an advanced high flow water filtration system used to filter normal and low-turbidity water, for commercial ice machines and coffee brewing systems in restaurants and in other food service applications. Today, customers can save 41% on this 3M water filter system which includes two 3M HF60-S filter cartridges (56134-05), a two cartridge manifold with built-in pressure gauge, inlet water shutoff valve, outlet check valve and mounting brackets.
Since 2004, Filtersfast.com remains committed as the authoritative resource for consumers, regarding the importance of changing residential and commercial water filters and air filters on a regular basis. The company strives to add to their customer's overall quality of life by offering first-rate products at the best competitive prices. By saving customers time and money, they simplify a sometimes mundane, but very necessary task. Helping consumers understand the importance of regular water and air filtration maintenance is part of the company's mission statement. For more information regarding their food service filters and systems, along with the large assortment of water filters, air filters, humidifiers, refrigerator filters or pool and spa filters from Filters Fast, visit http://www.filtersfast.com or call their Customer Experience Department at 1-866-438-3458.