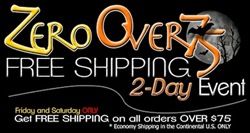 Our F-R-E-E Over $75 Two-Day Promotion is a "Scary" good deal! - Filtersfast.com
Charlotte, NC (PRWEB) October 25, 2013
Filtersfast.com, the leading online retailer of water filters and air filters announces a special 2-Day "F-R-E-E Over 75" Trick or Treat event. From Friday October 25 through Saturday October 26, customers can take advantage of no cost shipping on any order over $75, from the entire Filters Fast website. This 2-Day Trick or Treat event features deals on specialty items like the Honeywell Cool Moisture Humidifier, Sprite 3-Setting Filtered Chrome Shower Handle and the Everpure Helia 3-Way Designer Bar Faucet.
The Honeywell Cool Moisture Humidifier, specially priced at 30% off is a permafresh humidifier that features an illuminated water action window indicating the amount of water housed in this humidifier. With an adjustable humidity control, three moisture output settings allow this system to run up to 24 hours per filling. This Honeywell humidifier can accommodate rooms up to 700 square feet.
The Sprite 3-Setting Filtered Chrome Shower Handle boasts a savings of 62% off. This filtered shower accessory features 3 spray settings and fits most residential showers and bath applications. This chrome shower handle is easy to install and provides fresh, clean water to improve hair, nails and skin. The filtration feature also maintains the pH balance of the shower water to reduce scale formation.
The Everpure Helia 3-Way Designer Bar Faucet, specially priced at 41% off is a specialty item used with the Everpure Helia Combination Instant Hot/Chilled Water Appliance. This faucet redefines the perception of luxury and serves hot, as well as chilled water, for any occasion. It has a compact design with stainless steel and nickel plated construction for sleek durability.
Since 2004, Filtersfast.com remains committed as the authoritative resource for consumers regarding the importance of changing residential and commercial water filters and air filters on a regular basis. Helping consumers understand the importance of regular water and air filtration maintenance is part of the company's mission statement. By saving customers time and money, they simplify a sometimes mundane, but very necessary task. The company strives to add to their customer's overall quality of life by offering first-rate products at the best competitive prices. For more information regarding their "F-R-E-E Over $75 Two-Day Promotion," along with their large assortment of refrigerator filters, water filters, air filters, humidifier, pool and spa filters or featured promotional products, visit http://www.filtersfast.com or call their Customer Experience Department at 1-866-438-3458.