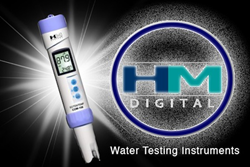 HM Digital strives to provide higher quality products at more affordable prices. -Charles Lee, HM Digital Managing Director
Charlotte, NC (PRWEB) July 16, 2013
Filtersfast.com, the leading online retailer of water filters and air filters, offers the most popular handheld TDS testers in the world from HM Digital. For a limited time only, Filtersfast.com is offering a complimentary HM Digital pH Buffer Solution Variety Pack, as a gift with the purchase of an HM Digital HM PH-200 Waterproof pH Meter.
HM Digital, Inc. is the premier source for the finest quality water testing instrumentation. Their handheld meters, used in a myriad of applications, are economical and superior in quality, features and performance. All HM Digital meters are factory calibrated and are ready to use out of the box. They are designed to stay consistent and retain their calibration. Total Dissolved Solids (TDS) are the total amount of mobile charged ions, including minerals, salts or metals dissolved in a given volume of water. TDS affects everything that consumes, lives in or uses water, whether organic or inorganic. Although with human consumption, drinking water with low total dissolved solids is preferred, many species such as plants and fish however, need significantly higher levels.
In a statement from Charles Lee, Managing Director for HM Digital, Inc., "HM Digital strives to provide higher quality products at more affordable prices. All of HM Digital's instruments, including its handheld testers, inline monitors and controllers, for TDS, EC, ORP, pH and other parameters, pack in more features and specifications than the competition, yet are available at the same or better price." HM Digital, Inc. is the sole provider of electronic digital TDS meters included in all packages of ZeroWater Home Purification Filtration Systems. The TDS instruments prove that the performance of ZeroWater Water Filtration Systems remove all measurable dissolved solids.
Since 2004, Filtersfast.com remains fully committed as the authoritative resource in water and air filtration. They offer first-rate products at the best competitive prices. The company strives to add to their customer's overall quality of life by simplifying a sometimes mundane, but very necessary task. For more information about their wide assortment of water filters, air filters, refrigerator water filters, pool and spa filters, humidifier filters or HM Digital Water Testing Instruments, visit http://www.filtersfast.com or call customer service at 1-866-438-3458.