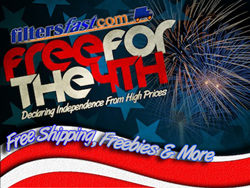 Water filter pitchers are portable, fashionable and practical for indoor and outdoor activities. -Filtersfast.com
Charlotte, NC (PRWEB) July 03, 2013
As the 4th of July festivities begin, Filtersfast.com, the authoritative resource in air filters and water filters celebrates Independence Day with salutations, fireworks and spectacular specials to commemorate the day. While many outdoor activities are taking place across the country, customers can still take advantage of great deals and savings slated for the company's "F-R-E-E for the 4th" promotional event, lasting through Monday July 8, 2013. As an added bonus, the company will offer no-cost shipping for all orders of $75.00 or more purchased from their entire website.
While the intense outdoor heat can pose a great risk for dehydration and heat-related illnesses, the day cannot be ruined due to lack of fluid replenishment. Part of Filtersfast.com's U.S. Independence Day Promotion includes special deals on the following featured water filter pitchers for a limited time only: 3M Filtrete Filtered Water Pitcher, the Red Mavea Elemaris Filtration Pitcher and the Brita Bella Filtered Water Pitcher. Water filter pitchers are portable, fashionable and practical for indoor and outdoor activities. They are ideal for helping to supply clean water for staying hydrated at all times.
Customers are also reminded to participate in the Filersfast.com "Lucky 6" daily drawings for a chance to win some sweet prizes for Facebook followers. For more details on guidelines about the Lucky 6 daily giveaways, go to their Facebook page and look for the Lucky 6 image.
Since 2004, Filtersfast.com remains fully committed as the authoritative resource in air filters and water filters. The company strives to add to their customer's overall quality of life by simplifying a sometimes mundane, but very necessary task. They offer first-rate products at the best competitive prices. For more information about their wide-range of water filters, air filters refrigerator water filters, pool and spa filters, filtered water pitchers and ozone reduction products for indoor air, visit http://www.filtersfast.com or call customer service at 1-866-438-3458.