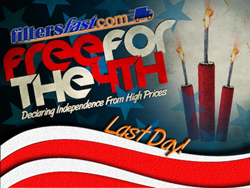 It's not too late to let us pick up your shipping tab for orders $75.00 or more from our website. –Filtersfast.com
Charlotte, NC (PRWEB) July 07, 2013
Filtersfast.com, the leading online retailer in air filters and water filters announces the last for customers to take advantage of their "F-R-E-E for the 4th" no cost shipping promotion, throughout their entire website. Monday, July 8, 2013 is the last day to avoid paying for shipping fees with any order of $75.00 or more on Filtersfast.com, in commemoration of America's Birthday.
Customers will find great deals on all products throughout the entire website and can purchase anything from reusable water bottles, filtered water pitchers, air purifiers, emergency preparedness items, refrigerator water filters, home air filters, aromatherapy bath and spa crystals to humidifiers. This is an ideal time to stock up now on any items in their stock assortment, without having to pay additional shipping costs.
As an added bonus, customers are also reminded to join in on the fun with the Filtersfast.com Facebook Lucky 6 giveaways. Today and tomorrow are the last days to participate in this social media event. For more information on participation rules, visit the Filtersfast.com Facebook page, click on the Lucky 6 image and follow the simple instructions. Be a part of the Filtersfast.com social media scene, by also following the company on Twitter, Google+, Pinterest and YouTube. There is no purchase necessary to participate, for a chance to win, but participants must first "Like" or "Follow" the company on these social media channels.
Since 2004, Filtersfast.com remains fully committed as the authoritative resource in water and air filtration. They offer first-rate products at the best competitive prices. The company strives to add to their customer's overall quality of life by simplifying a sometimes mundane, but very necessary task. For more information about their wide assortment of water filters, air filters, refrigerator water filters, pool and spa filters or humidifier filters, visit http://www.filtersfast.com or call customer service at 1-866-438-3458. Be sure to take advantage of their "F-R-E-E for the 4th" promotion before time runs out on tomorrow.