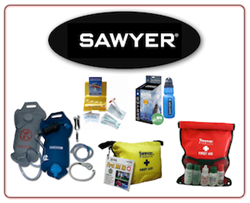 Sawyer Products offers the best, most technologically advanced solutions from first aid kits to topical insect repellents.
Charlotte, NC (PRWEB) August 21, 2013
In recognition of Medic Alert Awareness during the month of August, Filtersfast.com, the leading online retailer of air filters and water filters offers special options for consumers from Sawyer Products. Sawyer emergency kits are uniquely designed in preparation of a sudden crisis and approved by a panel of wilderness medical experts.
Medics and first responders are trained to administer medical assistance when an emergency situation occurs or a disaster strikes. Often, being unprepared in the event of an emergency can induce a tremendous amount of panic and stress. Having a few essential, cost-effective emergency kits on hand will help assist victims while medical help is on the way.
The Sawyer B4 Bee Sting & Venom Extractor Pump Kit is designed and medically approved to provide the most powerful suction available for the safe extraction of venoms and poisons, as a result of snakebites, wasp stings, spider or mosquito bites. The Sawyer SP926b - Group First Aid Kit Pouch is always ideal for multi-person excursions, expeditions and team sports. This first aid pouch can help with treating and cleaning minor wounds, stop serious bleeding, secure broken bones and sprains, as well as treat heat exhaustion. The Sawyer B4 Bee Sting & Venom Extractor Pump and Sawyer SP926b - Group First Aid Kit Pouch are a great combination to have at home or when traveling when an abrupt emergency arises.
Since 2004, Filtersfast.com remains committed as the authoritative resource for consumers regarding the importance of changing residential and commercial water filters and air filters on a regular basis. The company strives to add to their customer's overall quality of life by offering first-rate products at the best competitive prices. By saving customers time and money, they simplify a sometimes mundane, but very necessary task. Helping consumers understand the importance of regular water and air filtration maintenance is the company's mission. For more information regarding their assortment of water filters, air filters, faucet filters, pool and spa filters, or any of their cost-effective Sawyer emergency products, visit http://www.filtersfast.com or call their customer service department at 1-866-438-3458.