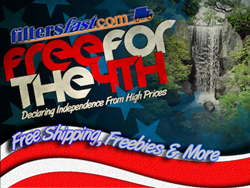 This weekend, we're offering exclusive deals to fight dehydration, while saving consumers money! –Filtersfast.com
Charlotte, NC (PRWEB) July 05, 2013
Filtersfast.com, the leading online retailer of air filters and water filters promotes reusable water products from Vapur Collapsible Reusable Water Bottles and Katadyn Filtration Vessels, during the celebration of American Independence Month. As the company continues its "F-R-E-E for the 4th" promotion this week, they are offering exclusive deals on Vapur Water Bottles, Katadyn MyBottle and Pocket Microfilter Outdoor/Emergency products. Through Monday July 8, 2013, with any order of $75.00 or more purchased on their website, customers will not have to pay for shipping.
Vapur Collapsible Water Bottles are ideal for refilling when there is potable water available, such as visiting a carnival or an outdoor sporting event. Filtered water vessels like the Katadyn MyBottle Water Purifier and the Katadyn Pocket Microfilter (Endurance Series) are excellent choices when hiking or visiting state parks. Filtersfast.com offers a wide range of water filtration and environmentally-friendly BPA-free water bottles. The company is committed during this season of scorching summer temperatures, to assist consumers with fighting against dehydration that can lead to heat related illnesses, indoors and outside.
In addition to these special weekend deals, there are more savings throughout the entire website on water filtration and air filtration products. As an added bonus for all Filtersfast.com Facebook followers, there is a "Lucky 6" daily giveaway to get in on. Anyone who "Likes" the Filtersfast.com Facebook page between now and July 8, will have an opportunity to participate in this game for a chance to win a fantastic prize. There is no purchase necessary to enter.
Since 2004, Filtersfast.com remains fully committed as the authoritative resource in air filters and water filters. The company strives to add to their customer's overall quality of life by simplifying a sometimes mundane, but very necessary task. They offer first-rate products at the best competitive prices. For more information about their wide assortment of water filters, air filters, Vapur Collapsible Water Bottles or Katadyn emergency filtration products, visit http://www.filtersfast.com or call customer service at 1-866-438-3458.