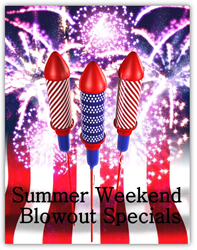 In addition to great deals, customers will not pay for shipping on orders over $99.00 from our entire website this weekend. -Filtersfast.com
Charlotte, NC (PRWEB) August 23, 2013
The Spectacular Summer Weekend Blowout Event is the latest sizzling hot summer promotion from Filtersfast.com. As the leading online retailer of water filters and air filters, they are offering customers more opportunities to take advantage of this weekend's incredible savings event! In addition to offering the season's great deals and clearance items, customers will be eligible for no-cost shipping on orders over $99.00 from their entire website.
Along with an array of special deals on a variety of water and air filtration products, this Spectacular Summer Blowout Event will feature the following weekend deals of the day: Vapur Collapsible Water Bottles, specially priced with savings up to 40% off, are ideal space-savers to tuck away in school backpacks, picnic baskets or in a handbag. The Everpure Helia Polished Stainless Steel Faucet is specially priced with a 33% savings on this model. This faucet is an ideal choice when upgrading a kitchen faucet system and delivering instant chilled or hot water at the tap. The Sprite PureSpray Chrome Shower Head Filter, promotionally priced at 40% off, is perfect for providing clean, fresh shower water to feel invigorated afterwards.
The Spectacular Summer Weekend Blowout Event and complimentary shipping for orders over $99.00 from the Filters Fast website, is effective from August 23 – 25. Consumers also have the opportunity to take advantage of these clearance and specially priced products for last minute back-to-school necessities or as a jumpstart for holiday shopping.
Since 2004, Filtersfast.com remains committed as the authoritative resource for consumers regarding the importance of changing residential and commercial water filters and air filters on a regular basis. The company strives to add to their customer's overall quality of life by offering first-rate products at the best competitive prices. By saving customers time and money, they simplify a sometimes mundane, but very necessary task. Helping consumers understand the importance of regular water and air filtration maintenance is the company's mission. For more information regarding their large assortment of water filters, air filters, faucet filters, pool and spa filters, or shower filtration products, visit http://www.filtersfast.com or call their customer service department at 1-866-438-3458.