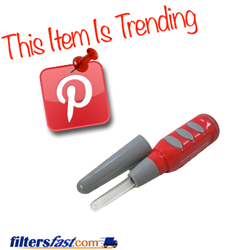 'Follow and repin our Pinterest Boards for inspiration from crafts, gifts, videos and charities, to helpful consumer tips.' –Filtersfast.com
Charlotte, NC (PRWEB) October 15, 2013
Filtersfast.com, the leading online retailer of air filters and water filters, promotes their top trending Pinterest Items of the Day. Customers engage in pinning and re-pinning many of their favorite items featured on the popular Filters Fast Pinterest Boards. The trending items for today are the Hydro-Photon SteriPEN Emergency Preparation UV Pen and the Melissa and Doug Memory Game.
SteriPEN earned the Water Quality Association's Gold Seal, which certifies its effectiveness and efficiency. The company uses ultraviolet light to purify and make drinking water safe. The Hydro-Photon SteriPEN Emergency Preparation UV Pen is essential for the great outdoors and emergency situations. The UV technology in this portable pen will produce clean, great tasting water when it is dipped in a glass of water or a commercial water bottle. The company produces powerful, user-friendly alternatives to filters, pumps and chemicals. This Pinterest Pin is popular among hikers, travelers and campers.
The Melissa and Doug Memory Game Kids Pool Toy include 10 hinged shells that open to reveal cute illustrations of the Maritime Mates. They encourage gross motor activity and cognitive development through the guise of pool time play. Melissa and Doug offer the best gifts from learning toys for preschoolers and toddlers, to advanced crafts and games for older children. Their product line of learning toys and games will steer parents towards advanced gifts suited for their child's specific skill level. This Pinterest pin is a favorite among parents and ideal for indoor activities beyond the pool season.
These popular Pinterest Trending Items of the Day offers convenience with everyday savings. Today's two hot products are favorites for consumers who share, like and repin from the Filters Fast Board to their personal Pinterest Boards. Many boards spotlight great gift ideas for any occasion, as well as practical applications.
Since 2004, Filtersfast.com remains the authoritative resource for consumers, regarding the importance of changing residential and commercial water filters and air filters on a regular basis. Helping patrons understand the importance of regular water and air filtration maintenance is part of the company's mission statement. By saving customers time and money, they simplify a sometimes mundane, but very necessary task. For more information regarding their featured Pinterest Trending Items of the Day, along with the large assortment of water filters, air filters, humidifiers, refrigerator filters or pool and spa filters from Filters Fast, visit http://www.filtersfast.com or call their Customer Experience Department at 1-866-438-3458.