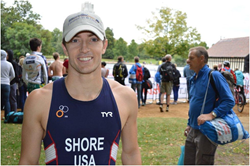 Greg displayed a fighting spirit and tenacious willpower to overcome obstacles that tried to inhibit him from competing in a championship he worked so hard for. That's the spirit of a true winner! – Filtersfast.com
Charlotte, NC (PRWEB) September 25, 2013
Greg Shore, representing the United States in the London Triathlon World Championship and sponsored by Filtersfast.com, continued to overcome odds during the competition held September 11 – 15 in London. Athletes from around the world participated in the Age-Group World Championship races that included the Aquathon and the Sprint Triathlon World Championships.
Two weeks prior to competing in London, Greg was struck by a truck during a local weekend bike race. His doctor gave him guarded approval to participate in the London competition as planned. After a practice swim in England, the impact of the cold weather and wet suit caused him to tear his calf muscle when he took his first step to run. He was able to participate in that day's event and completed his 5K run in 19 minutes, which was 2 minutes slower than what he wanted. Despite a torn calf muscle, Greg placed 3rd for the United States in the Aquathon Age-Group World Championship and 5th Place in the Sprint Triathlon Age-Group World Championship. He went on to place 38th in the overall Aquathon World Championship and 45th in the overall Sprint Triathlon World Championship.
Greg's goal for 2014 is to turn "Pro" while maintaining a 40-hour job. Since January 2013, he continues to be a major contributor to the Healthy Lifestyles initiative for Filtersfast.com, who sponsored him for the London Triathlon World Championship. After working as the Youth Triathlon Coach for the Siskey YMCA in Matthews, North Carolina and hosting two Triathlons in which 110 kids competed, the facility wants him to be in charge of a Family Fit Camp. This family boot camp program will get the entire family involved, while promoting a healthy lifestyle.
About Filtersfast.com:
Since 2004, Filtersfast.com remains steadfast as the authoritative resource for consumers regarding the importance of changing residential and commercial water filters and air filters on a regular basis. The company strives to add to their customer's overall quality of life by offering first-rate products at the best competitive prices. For more information regarding their large assortment of water, air or pool and spa filters, visit http://www.filtersfast.com or call their customer service department at 1-866-438-3458.