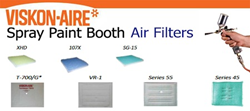 Over 45 years of experience designing and manufacturing filtration products. -Viskon-Aire Spray Paint Booth Air Filters
Charlotte, NC (PRWEB) September 16, 2013
Filtersfast.com, the leading online retailer of air filters and water filters, announces the addition of the Viskon-Aire Paint Spray Booth Filter products to their filtration assortment. Paint spray booth technology and innovation deliver cost effective applications in booth finishing environments covering automotive, aeronautics, industrial and integrated finishing systems.
Viskon-Aire has over 45 years of experience designing and manufacturing filtration products. They continually streamline and improve their processes to deliver top quality filtration products to give consumers the most value for their dollar. The company provides new products and specialty applications to meet the growing needs for a cleaner environment. Viskon-Aire has an array of paint booth filters that include intake and ceiling filters, exhaust filters, paint arrestors, pre-filters and high efficiency filters. These paint booth filter products are used in down draft, cross draft and prep station configurations.
The International Autobody Marketing Group (IAMG) recently honored Viskon-Aire with the Excellence Award for Honesty and Integrity at its 20th Anniversary Celebration held in Scottsdale, Arizona this past summer. Viskon-Aire was recognized for its "straightforward, consistent business values, methods, principles, expectations and outcomes." Viskon-Aire paint arrestors and diffusion filters are 98% efficient and comply with EPA regulation 40 CFR Part 63 (HHHHHH).
Since 2004, Filtersfast.com remains committed as the authoritative resource for consumers, regarding the importance of changing residential and commercial water filters and air filters on a regular basis. The company strives to add to their customer's overall quality of life by offering first-rate products at the best competitive prices. By saving customers time and money, they simplify a sometimes mundane, but very necessary task. Helping consumers understand the importance of regular water and air filtration maintenance is part of the company's mission statement. For more information regarding their Viskon-Aire Paint Booth line of products, along with the large assortment of water filters, air filters, humidifiers, refrigerator filters or pool and spa filters from Filters Fast, visit http://www.filtersfast.com or call their Customer Experience Department at 1-866-438-3458.