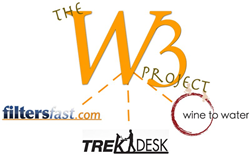 With The W3 Project, we are so proud to be a partner with Wine to Water and their global mission. – Filters Fast
Charlotte, NC (PRWEB) December 15, 2013
As the leading online retailer of water filters and air filters, Filtersfast.com is honored to announce that their non-profit partner, Wine to Water based in Boone, North Carolina, will be featured in a CNN Heroes documentary to be aired on Sunday December 15 at 8:00 p.m. ET. This documentary highlights Doc Hendley, founder and International President of Wine to Water, who will discuss the organization's campaign, commitment and progress to tackling the global water crisis. Doc Hendley is one of the ten CNN Heroes chosen in 2009 for his cause to turn wine into water.
Filtersfast.com, Wine to Water and TrekDesk Treadmill Desks formed a partnership called The W3 Project in 2012. In places like Africa, people spend about 40 billion hours every year walking to get water so polluted that it causes the death of approximately 3 children every minute. The W3 Project is building a community of people who walk in pursuit of health and wellness for everyone. To support Wine to Water, Filtersfast.com gives all of their customers the opportunity to donate one dollar during the checkout process for every online and phone purchase. If individuals would like to donate more than a dollar to the cause, they are encouraged to go to The W3 Project website and pledge their desired amount. Click here for more details.
Wine to Water is a movement dedicated to providing clean water and sanitation to people in need around the world. Twenty-five billion people are affected by unclean water and poor sanitation. With every project that the organization takes on, they insure that the proper type of water system is being used for that specific community. They help to improve sanitation, use local materials when possible, monitor and report on all of their projects, and are constantly developing their programs, while striving to provide more efficient systems. Doc Hendley and his committed philanthropists are hands on with every single project.
In addition, if athletic organizations, sororities, fraternities, schools, individuals, colleges and universities would like to donate their miles in support of The W3 Project, they can do on their website. Filters Fast encourages a healthy lifestyle with their employees, the community and to their customers. In the United States, people spend about 1.3 trillion hours every year sitting. Sixty-eight percent of the population is currently overweight or obese. This condition kills about three people every ten minutes. Donating miles in respect to the amount of miles individuals in other countries have to walk for water every day, supports the project's walking initiative.
Filtersfast.com remains fully committed as the authoritative resource for water filters and air filters since 2004. The company offers doable solutions to add to their customer's overall quality of life regarding water and air filtration. In case anyone misses the 8:00 p.m. presentation of Wine to Water's CNN documentary on Sunday December 15, it will also be shown later that night at 11:00 p.m. For more information regarding the wide range of filtration products Filters Fast offers, visit http://www.filtersfast.com or call their customer experience department at 1-866-438-3458.