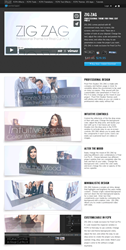 Our goal is to offer a wide variety of quality themes to our users and Zig Zag delivers an modern style that users will love
Aliso Viejo, California (PRWEB) June 19, 2014
Template Developers from Pixel Film Studios have announced the release of a new theme entitled Zig Zag for Final Cut Pro X.
"Our goal is to offer a wide variety of quality themes to our users and Zig Zag delivers an modern style that users will love" Said Christina Austin, CEO of Pixel Film Studios "Zig Zag is a modern and contemporary theme."
Zig Zag comes packed with 40 environment shots, text screens, title screens, and much more. There are a number of tools at the users disposal. Change the text, adjust the colors, scale and position the drop zones, and utilize the easy to use parameters to create the project users want. Zig Zag is made exclusive for Final Cut Pro X.
Pixel Film Studios' Zig Zag template is made with company and fashion usage in mind. Its versatility allows the environment to be used on many occasions. Play around with the customizable color parameters in Final Cut Pro X to easily change up the mood of any project. Pixel Film Studios' themes work with photos and videos so users can create a professional video easily without fail.
Control the reflectivity of the drop zones or floor with ease. Change the background color, adjust the drop zone, and stylize text with up to 2 text boxes per scene. Double click the drop zone in the FCPX window to activate easy to use on-screen controls. Zig Zag allows editors to easily alter the components in each scene. Users can easily put a personal touch on videos or images.
Easily change the mood of Zig Zag by selecting different color combinations in Final Cut Pro X. Choose between two different project washes that can completely alter the look and feel of any video. Change the background color, control the color wash, and even change the color or opacity of the active vignette.
Zig Zag features a simple yet shiny design that highlights and brightens the users media content. Choose a light colored background and turn down the text background opacity for a clean look. Enter text that compliments selected media by contrasting the background with a darker color. Zig Zag allows FCPX editors to create a professional video with ease.
Zig Zag is made exclusive for Final Cut Pro X. Look toward the inspector window in FCPX to find easy to use controls. Change the text and theme background colors, adjust the text, and utilize the easy to use drop zones to create the project editors have always wanted. Drag, drop, and create. Now it's time to watch the project come to life without a single keyframe.
Established in 2006, Aliso Viejo, California-based Pixel Film Studios is an innovative developer of visual effects tools for the post-production and broadcast community. Their products are integrated with popular non-linear editing and compositing products from Apple FCPX. All Apple, the Apple logo, Mac OS X, and Macintosh are registered trademarks of Apple Inc. in the U.S. and/or other countries. All other trademarks and trade names are the property of their respective owners.