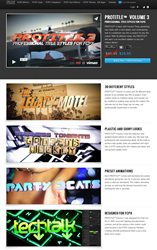 Our goal is to make your job easy and with Protitle Volume 3 you become the professional who makes special effects look easy
Aliso Viejo, California (PRWEB) May 20, 2014
Pixel Film Studios, developers of visual effects tool for post-production announced today the release of ProTitle Volume 3.
"Our goal is to make your job easy and with Protitle Volume 3 you become the professional who makes special effects look easy." Says Christina Austin, Pixel Film Studios, "Users are going to love ProTitle Volume 3 a lot of thought went into this one"
ProTitle is back with Volume Three, presenting new styles with a more plastic and contemporary look to compliment any film or project for any filmmaker. With 30 different styles, this ProTitle title pack is an excellent addition to any filmmaker's library!
ProTitle Volume 3 comes with 30 different style presets to accommodate any film or project. From modern styles to children's styles, each preset can be modified in endless ways giving film makers the ultimate tool at their finger tips for easy, yet professionally styled titles in seconds.
ProTitle Volume 3 has the reflection and gradient based options to make any title look fully professional with mesmerizing detail. All the tools to achieve high quality looks are published with each title in FCPX making the filmmakers job easier and saving them quality time.
Each ProTitle comes with keyframe-less preset animations giving the user fly in and out, along with zoom in and out animations. This makes animating as easy as selecting the desired movement and finishing the title in seconds.
ProTitle Volume 3 was designed for Final Cut Pro X. With on-screen lighting and placement controls, and all the options a filmmaker could want located in the FCPX Inspector Window, creating ultimate professional titles is just a few short clicks away.
Established in 2006, Aliso Viejo, California-based Pixel Film Studios is an innovative developer of visual effects tools for the post-production and broadcast community. Their products are integrated with popular non-linear editing and compositing products from Apple FCPX. All Apple, the Apple logo, Mac OS X, and Macintosh are registered trademarks of Apple Inc. in the U.S. and/or other countries. All other trademarks and trade names are the property of their respective owners.