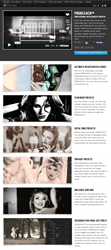 Having a wide variety of color grading tools is an editors dream because all the work is done for them
Aliso Viejo, California (PRWEB) June 14, 2014
Developers of Final Cut Pro X professional plugins have announced the release of a new color grading plugin ProBleach from Pixel Film Studios.
"Having a wide variety of color grading tools is an editors dream because all the work is done for them" Said Christina Austin, CEO of Pixel Film Studios. "ProBleach is a color grading preset that allow users to create many desirable looks"
FCPX users can take total control over the desaturated looks in their film like never before with ProBleach from Pixel Film Studios. With over 50 customizable presets, editors can calibrate the tint, levels, saturation, vignette, and wash to get exact bleached look they want for their film in FCPX.
With over 50 customizable color grade presets, ProBleach is the ultimate desaturation plugin for Final Cut Pro X. From contemporary fashion to sepia to film noir, ProBleach can match the look and style of several film eras.
Pixel Film Studios is on the case. With dark dramatic shadows and stark contrast, FCPX users can recreate the cinematic look and style of a 1940's Hollywood crime drama with the Film Noir presets included with ProBleach.
With the Sepia tone presets, ProBleach can imitate the look of photographs taken in the late 1800's. With a few clicks of a mouse, users can make their film look like it was developed with silver-based chemicals.
With washed blacks and muted colors, ProBleach users can make their film a blast from the past with the Vintage desaturation presets. Then using the easy-to-use controls, editors can go from instant vintage to hipster retro in a few clicks of a mouse
After selecting a color grade preset, users can add a custom vignette, film grain or blur to their film. ProBleach comes fully loaded with overlay add-ons that editors can use to complete their desaturated looks.
ProBleach was professionally designed to work seamlessly inside of Final Cut Pro X. As a FCPX effect, ProBleach plugins can be dragged and dropped onto the footage and previewed in real time without rendering. With easy-to-use controls that can be found in the FCPX inspector, users can calibrate the settings in a few clicks of a mouse.
Established in 2006, Aliso Viejo, California-based Pixel Film Studios is an innovative developer of visual effects tools for the post-production and broadcast community. Their products are integrated with popular non-linear editing and compositing products from Apple FCPX. All Apple, the Apple logo, Mac OS X, and Macintosh are registered trademarks of Apple Inc. in the U.S. and/or other countries. All other trademarks and trade names are the property of their respective owners.