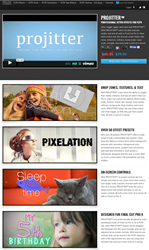 Aliso Viejo, California (PRWEB) June 22, 2014
Developers of Final Cut Pro X plugins have announce of the release of the Projitter plugin from Pixel Film Studios.
"Projitter is an answer to our user's request to have jittery text; we just took the idea a few steps further," said Christina Austin, CEO of Pixel Film Studios. "Projitters is a plugin our users will love."
With Projitter, users have the ability to wiggle their media, textures, and text all within Final Cut Pro X. Users can control the opacity, blend mode, scale, position, frame rate, spread, noise speed, softness, bump scale, drop shadow, and much more. Projitter gives the user total control over their wiggle, so that they get that custom look, all with a click of a mouse.
With over 50 presets, Projitter offers a wide range of fully customizable text presets. Users have the ability to choose from either background textures with animation, background color, animated drop zones, gradient text animations, and solid text animations. Each preset is individually designed with the user in mind. With so much customization the possibilities are truly endless.
With Projitter on-screen, controls are fun, simple, and easy to use. Users have total control over angle, scale, position, and text path with a click of a mouse. Projitter puts the user in total control with simple and easy to use on-screen controls all with a few clicks of a mouse all with in Final Cut Pro X.
Projitter was professionally designed to work seamlessly inside of Final Cut Pro X. As an FCPX title, each Projitter preset can be dragged and dropped onto the user's footage and can be adjusted by on-screen controls with easy-to-use controls that can be found in the FCPX inspector, with a few adjustments the user can easily find the best look with just a few clicks of a mouse.
Established in 2006, Aliso Viejo, California-based Pixel Film Studios is an innovative developer of visual effects tools for the post-production and broadcast community. Their products are integrated with popular non-linear editing and compositing products from Apple FCPX. All Apple, the Apple logo, Mac OS X, and Macintosh are registered trademarks of Apple Inc. in the U.S. and/or other countries. All other trademarks and trade names are the property of their respective owners.