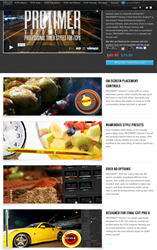 ProTimer Volume 2 allows our users to add a timer to any video with style
Aliso Viejo, California (PRWEB) June 23, 2014
Developers of Final Cut Pro X plugins have announced the release of ProTimer Volume 2 from Pixel Film Studios.
"ProTimer Volume 2 allows our users to add a timer to any video with style," said Christina Austin, CEO of Pixel Film Studios. "ProTimer Volume 2 is a plugin our users will love."
Looking for the perfect timer style for the next workout video or corporate training film? ProTimer Volume 2 from Pixel Film Studios is the answer! Three-dimensional angles to spinning rotations, each and every timer is uniquely customizable. With round, vertical, and horizontal loading bars, with clock or countdown timers, ProTimer Volume 2 is a valuable tool for any Final Cut Pro X editor.
ProTimer Volume 2 comes with on-screen placement controls which simplify the placing on the timers in the FCPX viewer. Saving the user time, this allows film makers to move on to the customization phase and finish in seconds.
From Children's show timers, to the ultimate sports replay timer, ProTimer Volume 2 has all the necessary preset timers for any project. With multiple custom controls, any style can be modified to the users' liking, all without sacrificing time.
ProTimer Volume 2 comes with over 80 options available, including 6 different timer layouts, with simple and more advanced styles included. Each style can modified to match any project, and three dimensional angles can be used to add an enhanced look, making each timer more exciting.
ProTimer Volume 2 is a plugin specifically designed for FCPX. Full creativity controls are located within the FCPX Inspector Window and on-screen placement controls in the viewer, making this the most efficient plugin for styled timers around.
Established in 2006, Aliso Viejo, California-based Pixel Film Studios is an innovative developer of visual effects tools for the post-production and broadcast community. Their products are integrated with popular non-linear editing and compositing products from Apple FCPX. All Apple, the Apple logo, Mac OS X, and Macintosh are registered trademarks of Apple Inc. in the U.S. and/or other countries. All other trademarks and trade names are the property of their respective owners.