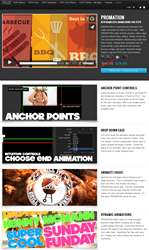 Promation is a fun keyframeless animation tool perfect for any playful video project.
Aliso Viejo, California (PRWEB) July 01, 2014
Developers of plugins and theme template for Final Cut Pro X have released Promation Plugin for from Pixel Film Studios
"Promation is a fun keyframeless animation tool perfect for any playful video project," says Christian Austin, Pixel Film Studios CEO. "Our users have been requesting a fun keyframeless and playful plugin and we delivered."
Promation is a keyframe-less animation tool made exclusively for Final Cut Pro X users. With Promation, easily animate pictures, videos, logos, and text without heavy editing. Simply choose the intro and outro animations desired using a simple drop down menus. Choose basic animations such as scale and flip or get advanced with dynamic bounces, hinges, and more! Pixel Film Studios makes it easy for FCPX users to be amazing.
Utilize the green on-screen controls to set hinges for the intro animation in Final Cut Pro X. Use the red on-screen control guides to set the hinges for the outro animation. With customizable anchor points, users can create fresh animations with complete ease.
Pick and choose the animation desired using drop down meus found in the inspector window. Pixel Film Studios' intuitive categorization allows users to easily navigate the plugins controls. Control the speed of the animation, add a spin, and adjust the anchor point to create amazing looks.
Animate text and logos without having to set a single keyframe. Place a transparent logo image or basic text title in the timeline and drag a Promation preset atop. Find the customizable controls in the top right inspector window and choose the intro and outro animation desired. It's that easy! Promation will do the rest.
Promation allows users to create energetic bounces, hinge effects, swinging text & logos, smooth swings, and more. Control the amount of bounce, the speed of the intro/outro animations, and even add a fade. Seamlessly flip, flop, and move text, images, and videos without the headache of keyframes.
Established in 2006, Aliso Viejo, California-based Pixel Film Studios is an innovative developer of visual effects tools for the post-production and broadcast community. Their products are integrated with popular non-linear editing and compositing products from Apple FCPX. All Apple, the Apple logo, Mac OS X, and Macintosh are registered trademarks of Apple Inc. in the U.S. and/or other countries. All other trademarks and trade names are the property of their respective owners.