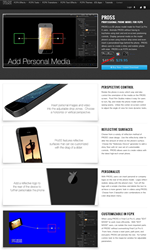 Our goal is to offer our users a wide variety quality themes and PRO5S adds a 3D style to our library.
Aliso Viejo, CA (PRWEB) July 07, 2014
Developers of plugins and theme template for Final Cut Pro X have released PRO5S Theme Plugin Pixel Film Studios.
"Our goal is to offer our users a wide variety of quality themes and PRO5S adds a 3D style to our library," says Christian Austin, Pixel Film Studios CEO. "PRO5S Theme has a 3D environment look our users will love."
PRO5S is a 3D phone model made for Final Cut Pro X users. Animate PRO5S without having to keyframe using start and end on-screen positioning controls. Display personal media on the model phone's screen using intuitive drop zones and even insert a personalized logo behind the phone. PRO5S allows users to create a shiny and realistic phone with ease. PRO5S is an FCPX exclusive.
Rotate the phone in every which way and control the orientation of the media on the PRO5S screen. Pixel Film Studios makes it easy for users to turn, flip, and rotate the phone model without seeing seams. Utilize the center on-screen control to adjust the angle of view for more dynamic looks.
Choose from a variety of reflection method of PRO5S' clean design. Use the reflectivity slider to alter the amount of shine on the phone's surface. Choose the "Stationary Device" generator to add a shiny floor with its own set of customizable controls. PRO5S allows users to create videos with the latest high-tech smart phone.
With PRO5S, users can insert personal or company logos on the rear of the phone model. Logos reflect realistically along with the phone's text. Turn off the logo with a simple checkbox and delete the text to achieve a more generic look in videos using PRO5S. Choose from three beautiful color combinations in the color drop-down menu.
When using PRO5S in Final Cut Pro X, utilize "Edit Mode" to work more efficiently. With "Edit Mode" users, can isolate the most important parts of PRO5S' without overworking Final Cut Pro X. From here, choose a start point, path point, and end point, and PRO5S will animate the rest. For further control, look to the inspector window for adjustable parameters.
Established in 2006, Aliso Viejo, California-based Pixel Film Studios is an innovative developer of visual effects tools for the post-production and broadcast community. Their products are integrated with popular non-linear editing and compositing products from Apple FCPX. All Apple, the Apple logo, Mac OS X, and Macintosh are registered trademarks of Apple Inc. in the U.S. and/or other countries. All other trademarks and trade names are the property of their respective owners.