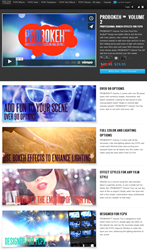 ProBokeh Volume Two was built to give users endless control when creating Bokeh generators
Aliso Viejo, California (PRWEB) July 17, 2014
Plugin developers for Pixel Film Studios have announced ProBokeh Volume Two for Final Cut Pro X.
"ProBokeh Volume Two was built to give users endless control when creating Bokeh generators," said Christina Austin, CEO of Pixel Film Studios. "We're proud of ProBokeh Volume Two and I know our users are going to love it."
ProBokeh Volume Two from Pixel Film Studios brings new bokeh effects, but this time with more options, color controls, along with numerous speeds to add more style and kick to any film. Adding de-focused styles of light will enhance any users films style with ease. With minimal and more intense styles, ProBokeh Volume Two will add that extra excitement users film needs.
ProBokeh Volume 2 comes with over 90 preset styles with numerous shapes, movements, and bokeh variations. Looking for fast paced or slow moving bokeh styles? Bright or minimal light intensity presets? ProBokeh Volume Two has every style to suit each and every clip.
ProBokeh Volume 2 comes with all the necessary color and lighting options any FCPX user could want. Minimal looks and exciting over-exposed styles are all options any filmmaker can make using the tools within Final Cut Pro.
Whether it's a concert recap film, documentary about a superstar actress, or just a simple but fun family film, ProBokeh Volume Two can suit any style of film or project. Simply select the style and with a few simple customization steps, professional looks can be created. It's that easy.
ProBokeh Volume Two is designed to work within Final Cut Pro X. Simple apply the effect to the desired clip, and use the necessary plugin tools within the FCPX Inspector Window to make the style personalized, enhancing the lighting elements of any scene.
Established in 2006, Aliso Viejo, California-based Pixel Film Studios is an innovative developer of visual effects tools for the post-production and broadcast community. Their products are integrated with popular non-linear editing and compositing products from Apple FCPX. All Apple, the Apple logo, Mac OS X, and Macintosh are registered trademarks of Apple Inc. in the U.S. and/or other countries. All other trademarks and trade names are the property of their respective owners.