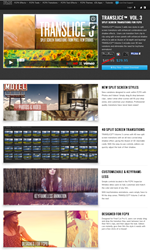 TranSlice Vol.3 was built to give users a creative way to transition between one media clip to the next.
Aliso Viejo, CA (PRWEB) July 22, 2014
Plugin developers for Pixel Film Studios have announced TranSlice Vol.3 for Final Cut Pro X.
"TranSlice Vol.3 was built to give users a creative way to transition between one media clip to the next," said Christina Austin, CEO of Pixel Film Studios. "We're proud of TranSlice Vol.3 and I know our users are going to love it."
TranSlice Vol.3 adds new styles to split screen transitions with enhanced combinations and shadow effects. Users can transition from clip to clip using split screen panels with enhanced shadow effects to add an illusion of 3d depth and layering. TranSlice Vol.3 includes over 30 new variations and eliminates the need for keyframe animations.
New variations designed to work within FCPX with Photos and Videos. Simply drag & drop between clips, select what other scenes will fill the drop zones, and customize shadows. Professional quality transitions have never been easier.
TranSlice Vol.3 comes with 40 new variations of split screen transitions with up to 5 drop zones, and all new added shadow effects, giving the illusion of stackable 3d scenes. Shadow controls included.
Simple controls located in the FCPX Inspector window allow users to fully customize and match the style of any film. Users have control over which scene they want and where it is located, among other options.
Designed for Final Cut Pro X, users can simply drag and drop the transition they want between two of their film's clips, and then adjust the look. Editors can instantly give their film the style it needs with just a few clicks of a mouse.
Established in 2006, Aliso Viejo, California-based Pixel Film Studios is an innovative developer of visual effects tools for the post-production and broadcast community. Their products are integrated with popular non-linear editing and compositing products from Apple FCPX. All Apple, the Apple logo, Mac OS X, and Macintosh are registered trademarks of Apple Inc. in the U.S. and/or other countries. All other trademarks and trade names are the property of their respective owners.