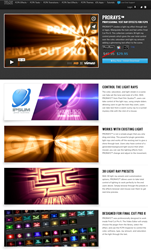 Our goal with ProRays was to give users a cool light ray effect with customizable controls.
Aliso Viejo, California (PRWEB) August 06, 2014
Plugin developers for Pixel Film Studios have announced ProRays for Final Cut Pro X.
"Our goal with ProRays was to give users a cool light ray effect with customizable controls," said Christina Austin, CEO of Pixel Film Studios. "We're proud of ProRays and our customers love this awesome plugin."
ProRays creates a light ray effect through text or logos. Manipulate the look and feel within Final Cut Pro X. This collection contains 30 light ray control presets, which gives the user total control over the color, saturation and light ray amount adding a glimmering text effect to the scene.
The color, saturation, and light streak in a scene can help set the tone and style of a film. With ProRays from Pixel Film Studios, users can take control of the light rays, using simple sliders allowing users to get the look they want, users can take text from a warm sunny ray to a surreal mystery title with the click of a mouse.
ProRays is not a simple plugin that editors drag and drop in the FCPX timeline. This powerful plugin generates light rays and works off the existing text to give a shine through look. Users also have control of a generated background light source that when moved, users can see the lighting effects from ProRays change and adjust to the movement.
With 30 light ray presets and customization options, ProRays allows users to take total control of lighting to work perfectly to the end users desire. Simply browse through the presets in the effects browser and mouse over them to get real-time preview.
ProRays was professionally designed to work inside Final Cut Pro X. The Video Editor will simply choose the plugin from the library, select the effect, and use the FCPX Inspector to control the color, softness, type, ray amount, and saturation of the light through the text.
Established in 2006, Aliso Viejo, California-based Pixel Film Studios is an innovative developer of visual effects tools for the post-production and broadcast community. Their products are integrated with popular non-linear editing and compositing products from Apple FCPX. All Apple, the Apple logo, Mac OS X, and Macintosh are registered trademarks of Apple Inc. in the U.S. and/or other countries. All other trademarks and trade names are the property of their respective owners.