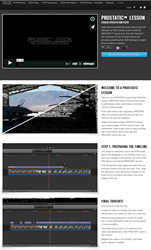 ProStatic is a professional static effect plugin that brings old TV and VCR static to special effect artist
Aliso Viejo, California (PRWEB) September 03, 2014
Final Cut Pro X plugin developers have announced a new ProStatic Lesson from Pixel Film Studios.
"ProStatic is a professional static effect plugin that brings old TV and VCR static to special effect artist," said Christina Austin, CEO of Pixel Film Studios. "Prostatic give users customizable options to create the static distortion based on their preference."
Learn how to recreate the static effects of an old television or VCR in Final Cut Pro X with the ProStatic Lesson from Pixel Film Studios. This collection of over 50 static effects can simulate everything from VCR tracking to a nighttime surveillance camera.
The ProStatic Lesson from Pixel Film Studios allows Final Cut Pro X users a walk though to learning how to add realistic static, interference, and noise effects to their footage. From sizzle reels to title sequences, ProStatic offers an energetic look that users can use as a theme to tie a film together. Unlike composite footage, ProStatic makes the image wriggle, roll and warp to match the interference. Users simply have to drag and drop one of the presets above their clip, and ProStatic will do the rest.
Users are instructed to begin by selecting a clip in the FCPX media library and dragging it to the timeline. Once the footage is in the timeline, go to the FCPX titles library to locate the ProStatic presets. Scan through the static types and select the one that best matches the desired look. Then, drag the adjustment layer above the footage on the Final Cut Pro X timeline and make it the same length as the clip. In order to make the footage look like a weak transmission, let's make the static cut in and out. Press B on the keyboard to access the blade tool. Cut the ProStatic layer into several pieces of varying lengths. Now Press A to go back to the selection tool. Select and delete every other ProStatic piece in the timeline. Playback the video in the timeline, and make further adjusts if needed.
Established in 2006, Aliso Viejo, California-based Pixel Film Studios is an innovative developer of visual effects tools for the post-production and broadcast community. Their products are integrated with popular non-linear editing and compositing products from Apple FCPX. All Apple, the Apple logo, Mac OS X, and Macintosh are registered trademarks of Apple Inc. in the U.S. and/or other countries. All other trademarks and trade names are the property of their respective owners.