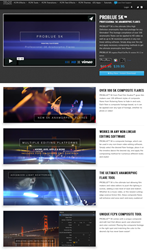 ProBlue 5k is a compilation of anamorphic flares that can turn a users video from good to epic
(PRWEB) September 17, 2014
Final Cut Pro X plugin developers have announced a new anamorphic flare plugin entitled ProBlue 5k from Pixel Film Studios.
"ProBlue 5k is a compilation of anamorphic flares that can turn a users video from good to epic," said Christina Austin, CEO of Pixel Film Studios. "Blurring the line between professional and armature, ProBlue 5k is a definite game changer."
ProBlue 5k is the ultimate Ultra High Definition anamorphic flare tool package for any filmmaker! This footage compilation of over 100 anamorphic flares can be applied to HD video as well as up to 5K resolution projects in any non-linear editing software. Simply drag over the clip and apply necessary compositing methods to get the ultimate anamorphic lens flares.
ProBlue 5k from Pixel Film Studios gives filmmakers over 100 different styles of composite flares from flickering flares to fade in and outs. Each fare is composite footage based, so it can be applied over any type of footage, whether its photo or video.
ProBlue 5k is composite footage, which can be used in any non-linear video editing software. Simply select the desired flare footage, place it on the timeline above the desired clip, and apply the compositing method for numerous different looks and styles.
ProBlue 5k is the ultimate tool allowing filmmakers and video editors to push the lighting in scenes, adding a new level of style and realism. Whether it's a music video, or the newest cutting-edge science-fiction film, these composite flares will enhance and wow each and every audience.
ProBlue 5k comes with a unique composite and edit tool that allows quick user placement and color controls! Placing the composite footage in the right spot and matching the color to the desired clip has never been easier.
Established in 2006, Aliso Viejo, California-based Pixel Film Studios is an innovative developer of visual effects tools for the post-production and broadcast community. Their products are integrated with popular non-linear editing and compositing products from Apple FCPX. All Apple, the Apple logo, Mac OS X, and Macintosh are registered trademarks of Apple Inc. in the U.S. and/or other countries. All other trademarks and trade names are the property of their respective owners.