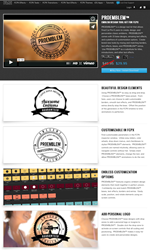 ProEmblem gives users the ability to design personalize Classic Emblems all inside FCPX
Aliso Viejo, California (PRWEB) September 18, 2014
Plugin and template developers from Pixel Film Studios have announced the ProEmblem Plugin for Final Cut Pro X.
"ProEmblem gives users the ability to design personalize Classic Emblems all inside FCPX" Said Christina Austin, CEO of Pixel Film Studios. "When users get their hands on ProEmblem, a new level of professionalism will become the new standard."
ProEmblem is a design tool kit that allows Final Cut Pro X users to create, design, and personalize classic emblems. ProEmblem comes with 15 base designs, amazing text effects, and a plethora of customization options. Create brand new looks by mixing and matching borders, text effects, bases, and ProEmblem extras. Use design tool kit that allows Final Cut Pro X users to create, design, and personalize classic emblems as a substitute for titles, introductions, and other text effects.
Using ProEmblem as easy as drag and drop. Choose a ProEmblem base preset. From here, users can choose to add customizable borders, smooth text effects, and ProEmblem extras directly atop the base. Offset the position of the generators in the FCPX timeline to time animations to perfection.
Find customizable parameters in the FCPX inspector window. Utilize easy sliders, color wheels, drop down menus, and checkboxes to stylize ProEmblem elements. ProEmblem controls are named intuitively, allowing users to navigate controls without fail. Simply stack ProEmblem elements, change the text, and allow ProEmblem animations to do the rest.
ProEmblem features organic emblem design elements that mesh together in perfect unison. Confidently mix and match ProEmblem bases, text effects, borders and extras. Easily scale, position, and rotate elements using on-screen controls.
Choose ProEmblem base designs with drop zones to add a personal logo or insignia to ProEmblem Double click the drop zone to activate on-screen controls that all scaling and positioning. ProEmblem makes it easy for users to create and personalize designs.
Established in 2006, Aliso Viejo, California-based Pixel Film Studios is an innovative developer of visual effects tools for the post-production and broadcast community. Their products are integrated with popular non-linear editing and compositing products from Apple FCPX. All Apple, the Apple logo, Mac OS X, and Macintosh are registered trademarks of Apple Inc. in the U.S. and/or other countries. All other trademarks and trade names are the property of their respective owners.