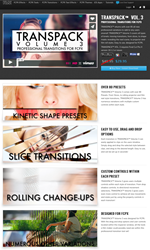 Transpack Vol. 3 delivers high quality transitions that will add a level of professionalism to any editors video project
Aliso Viejo, California (PRWEB) September 21, 2014
Developers and plugin specialist of Final Cut Pro X plugins have announced a new transition plugin entitled Transpack Vol. 3 from Pixel Film Studios.
"Transpack Vol. 3 delivers high quality transitions that will add a level of professionalism to any editors video project," said Christina Austin, CEO of Pixel Film Studios. "Blurring the line between professional and armature, Transpack Vol. 3 is a definite game changer."
Transpack Vol. 3 returns with over 85 all new professional variations to add to any users arsenal. Transpack Vol. 3 covers all types of kinetic moving transitions, from slices, to shape masks revealing the next scene, to projector and film roll styles.
Transpack Vol. 3 comes with over 80 Presets. From Slices, to rolling projector and film reel style transitions, Transpack Vol. 3 has numerous variations with multiple custom controls within each style.
Easy to Use, Drag and Drop Options
Each transition in Transpack Vol. 3 can easily applied to clips on the users timeline. Simply drag and drop the selected style between clips, and drag to the desired length. Easy to use, and can be set up in seconds.
Custom Controls within Each Preset
Transpack Vol. 3 gives users multiple controls within each style of transition. From drop shadow controls, to directional movement selections, Transpack Vol. 3 gives users even more control to achieve all new movements and styles just by using the property controls in each transition.
Transpack Vol. 3 was designed for FCPX. With the drag and drop options and user controls located within the inspector window, all the tools a filmmaker could possibly need are within this professional transition tool set.
Established in 2006, Aliso Viejo, California-based Pixel Film Studios is an innovative developer of visual effects tools for the post-production and broadcast community. Their products are integrated with popular non-linear editing and compositing products from Apple FCPX. All Apple, the Apple logo, Mac OS X, and Macintosh are registered trademarks of Apple Inc. in the U.S. and/or other countries. All other trademarks and trade names are the property of their respective owners.