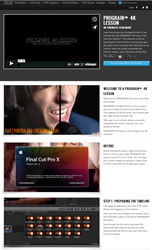 Prograin 4K lesson gives users a comprehensive guide to using this fun plugin
Aliso Viejo, California (PRWEB) September 26, 2014
Pixel Film Studios, a leader of Final Cut Pro X plugins and themes, announced today the release of a new tutorial for Prograin 4K plugin, a customizable grain composite footage plugin for FCPX
"Prograin 4K lesson gives users a comprehensive guide to using this fun plugin" says Christina Austin, CEO of Pixel Film Studios. " Each grain footage is individually planned with the user in mind and Prograin 4K Lesson helps to shed light to using this plugin with ease"
Prograin 4K allows Final Cut Pro X users to give their footage the look of real celluloid film. This collection of 20 film stocks can instantly give any video a more cinematic feel. With easy to use controls, editors can quickly manipulate the contrast, opacity, color and texture of the film. Prograin 4K works on any footage up to 4K resolution.
Before starting the project, the user needs to make sure that Final Cut Pro X is up to date. Prograin 4K requires version 10.1.3 or newer.
Check the fpcx version number by clicking on "About Final Cut Pro" in the Final Cut Pro drop down menu. To begin, select a clip in the FCPX media library and drag it to the timeline. Once the footage has been placed, go to the FCPX effects library to locate the ProGrain presets. Scan through the film stocks and select the texture that best matches the look you want. Drag and drop the filter stacked on top the media in the Final Cut Pro X timeline.
Once applied, customize the look by selecting the clip in the timeline. Use the Grain Controls in the FCPX Inspector to adjust the film stock, opacity, and blend mode. Then use the Film Controls to adjust the Grain exposure, smoothness, and detail.
Next, use the Color Controls to adjust the temperature of the film. Once the film is looking the way the user desired, quickly copy these settings onto the rest of the clips in the scene. Select the original clip in the timeline, and press command, option, c on the keyboard. Then select another clip in the timeline and press command, option. Repeat this with the rest of the clips in your sequence.
Established in 2006, Aliso Viejo, California-based Pixel Film Studios is an innovative developer of visual effects tools for the post-production and broadcast community. Their products are integrated with popular non-linear editing and compositing products from Apple FCPX. All Apple, the Apple logo, Mac OS X, and Macintosh are registered trademarks of Apple Inc. in the U.S. and/or other countries. All other trademarks and trade names are the property of their respective owners.