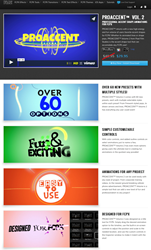 ProAccent Vol. 2 delivers high quality animations that will add a level of fun to any editors video project
Aliso Viejo, California (PRWEB) October 13, 2014
Developers and plugin specialist of Final Cut Pro X plugins have announced a new fun animated plugin entitled ProAccent Vol. 2 from Pixel Film Studios.
"ProAccent Vol. 2 delivers high quality animations that will add a level of fun to any editor's video project," said Christina Austin, CEO of Pixel Film Studios. "Blurring the line between professional and amature, ProAccent Vol. 2 is a definite game changer."
ProAccent Vol. 2 returns with a new fun energy and a high volume of users' favorite accent shapes for FCPX. Whether it's animated lines or shape pops, ProAccent Vol. 2 from Pixel Film Studios is the accent shape tool that can accommodate any FCPX user.
ProAccent Vol. 2 comes with 60 new presets, each with multiple selectable styles within each preset. From Firework styled pops to drawn arrows and lines, ProAccent Vol. 2 has everything any user could want.
Simple Customizable Controls
With color controls and added outline controls on select animations, ProAccent Vol. 2 has even more options, giving users the ultimate tool in creating fun animations in the quickest way possible.
ProAccent Vol. 2 can be used easily with any style of project. From corporate training videos to the newest groundbreaking cellular phone advertisement, ProAccent Vol. 2 is a simple tool that can add a new level of fun and professionalism to any project.
Designed For FCPX
ProAccent Vol. 2 was designed as a title tool for FCPX. Simply drag the desired animation option to the timeline, use the built-in on-screen controls to adjust the position and scale to the needed location, and use the custom controls in the Inspector window to make it match with the shot.
Established in 2006, Aliso Viejo, California-based Pixel Film Studios is an innovative developer of visual effects tools for the post-production and broadcast community. Their products are integrated with popular non-linear editing and compositing products from Apple FCPX. All Apple, the Apple logo, Mac OS X, and Macintosh are registered trademarks of Apple Inc. in the U.S. and/or other countries. All other trademarks and trade names are the property of their respective owners.