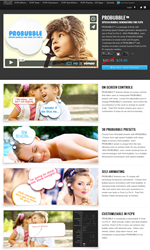 ProBubble allows users to create speech bubbles and customize them to the look the user wants
Aliso Viejo, California (PRWEB) October 17, 2014
Developers of FCPX 3rd Party Products have announced the release of a new plugin for Final Cut Pro X entitled ProBubble from Pixel Film Studios.
"ProBubble allows users to create speech bubbles and customize them to the look how the user wants," said Christina Austin, CEO of Pixel Film Studios. "ProBubble was professionally designed to add a level of fun when it comes to using speech bubbles"
ProBubble is a package of thirty self-animating speech bubble generators designed for use in Final Cut Pro X. With ProBubble, users can choose from an array of beautiful bubble animations to reveal words and thoughts. Customize the look of ProBubble with intuitive on-screen controls found in Final Cut Pro X's inspector window.
ProBubble features handy on-screen controls that allow users to manipulate ProBubble presets with ease. Locate the adjustable puck to change ProBubble 's orientation, and control the circumference of the circle to change its overall scale. Pixel Film Studios' plugins give users a combination of ease-of-use and functionality.
Choose from 30 bubble presets with ProBubble. Choose from rigid speech bubbles with sharp edges to bouncy think bubbles. Each ProBubble preset is unique from the next, allowing users to achieve looks for any situation. With ProBubble, users create anything from an internal dialogue with think bubbles to a multiple dimensional conversation with speech bubbles.
ProBubble features over 15 unique self-animating introductory animations. Choose from bubbly bouncy animations with think bubbles, to swinging hinge animations with speech bubbles. Mix and match intro and outro animations to create new looks in Final Cut Pro X. Pixel Film Studios makes amazing easy to achieve.
ProBubble is completely customizable in Final Cut Pro X. With extrude, indent, and drop shadow controls, Final Cut Pro X users can achieve new bubble styles with absolute ease. Utilize color wheels, sliders, drop-down menus, and checkboxes to personalize ProBubble to its fullest
Established in 2006, Aliso Viejo, California-based Pixel Film Studios is an innovative developer of visual effects tools for the post-production and broadcast community. Their products are integrated with popular non-linear editing and compositing products from Apple FCPX. All Apple, the Apple logo, Mac OS X, and Macintosh are registered trademarks of Apple Inc. in the U.S. and/or other countries. All other trademarks and trade names are the property of their respective owners.