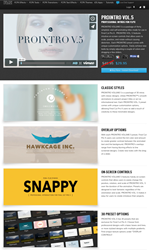 Adding the ProIntro Vol.5 title intro to a video adds an element of professionalism
Aliso Viejo, California (PRWEB) October 22, 2014
Plugin creators from Pixel Film Studios have announced the release of ProIntro Vol.5, a fully customizable title intro tool made specifically for Final Cut Pro X.
"Adding the ProIntro Vol.5 title intro to a video adds an element of professionalism," said Christina Austin, CEO of Pixel Film Studios. "ProIntro Vol.5 gives users multiple options to customize"
ProIntro Vol.5 is a package of thirty simplistic and self-animating titles made for use in Final Cut Pro X. ProIntro Vol.5 features intuitive on-screen controls that allow users to scale, position, and rotate without causing distortion. Each ProIntro Vol.5 preset comes with unique customization options. Easily achieve new looks by simply adjusting a couple of colors and dragging a few sliders.
With each ProIntro Vol.5 preset, Final Cut Pro X users can control the tint color and amount to create greater contrast between the animated text and the background. ProIntro's overlays range from having blurring effects to line screened designs.
ProIntro Vol.5 features handy on-screen controls that allow users to easily change the position, rotation, and scale of ProIntro Vol.5 over the duration of the animation. Presets in ProIntro Vol.5 are designed to look fantastic regardless of the orientation and scale. ProIntro Vol.5 makes it easy for users to utilize in their projects.
ProIntro Vol.5 has 30 presets that are exclusive for Final Cut Pro X. Choose a professional design to meet the specifics of a theme. Be more stylized in the design of a project with multiple gradients. Find unique texture options under "OVERLAY CONTROLS."
Find ProIntro Vol.5 presets in the titles category in Final Cut Pro X. From here, it's as easy as drag and drop! Pick a ProIntro Vol.5 preset and find customizable parameters in the top right inspector window. Use easy rotation dials, color wheels, sliders, and drop down menus to create amazing work.
Established in 2006, Aliso Viejo, California-based Pixel Film Studios is an innovative developer of visual effects tools for the post-production and broadcast community. Their products are integrated with popular non-linear editing and compositing products from Apple FCPX. All Apple, the Apple logo, Mac OS X, and Macintosh are registered trademarks of Apple Inc. in the U.S. and/or other countries. All other trademarks and trade names are the property of their respective owners.