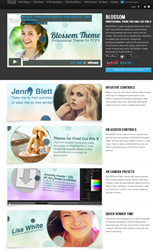 Our growing library of themes have given our users many choices and the Blossom theme adds a professional style to that library
Aliso Viejo, California (PRWEB) October 27, 2014
Pixel Film Studios FCPX plugin and theme designers have announced the release of the Blossom theme for Final Cut Pro X.
"Our growing library of themes have given our users many choices and the Blossom theme adds a professional style to that library." Says Christian Austin, CEO of Pixel Film Studios. "Blossom theme is a professional and clean style theme that our users will love."
Sliders, pop-ups, and colors wheels make it easier then easy to change the parameters of the theme. Change the background gradient, drop zone outline, dots color, and more. Blossom makes it easy to create a professional video.
Blossom comes with on-screen controls that give the user the position of the depth through a slider. The user also gets rotation of the X, Y, and Z axis. There is also a control that the user can slide in any direction so control the X and Y position.
Blossom includes camera 48 camera presets that include sweeps, booms, dooms, and more. Choose a dolly and get different options such as dolly in from clockwise, counter clockwise, dolly out, and more. Create a new camera angle by clicking a button.
This theme was designed to run well on average to high-end computers. Quick rendering and exporting gives the user more time to enjoy their creations and less time having to deal with the wait of exporting.
Established in 2006, Aliso Viejo, California-based Pixel Film Studios is an innovative developer of visual effects tools for the post-production and broadcast community. Their products are integrated with popular non-linear editing and compositing products from Apple FCPX. All Apple, the Apple logo, Mac OS X, and Macintosh are registered trademarks of Apple Inc. in the U.S. and/or other countries. All other trademarks and trade names are the property of their respective owners.