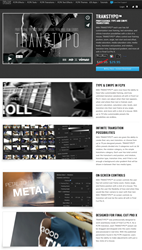 The TransTypo plugin is a transition pack that gives users the ability to be as creative as always desired
Aliso Viejo, California (PRWEB) October 28, 2014
Final Cut Pro X plugin specialists have announced the release of the TransTypo from Pixel Film Studios.
"The TransTypo plugin is a transition pack that gives users the ability to be as creative as always desired." Said Christina Austin, CEO of Pixel Film Studios. "Users will take their video to the next level with this transition plugin."
With TransTypo each user has full customization over framing, text animation, and infinite transition possibilities with a click of a mouse. TransTypo offers control over framing position, zoom, angle, text start and end offset, media saturation, media saturation color, media levels, transition end position, end rotation, transition time, background gradient, and more all with in Final Cut Pro X.
With TransTypo users now have the ability to have fully customizable framing, and truly unlimited transition variations all with in Final Cut Pro X. Users can adjust when their text appears, when and where their text is framed, each source's saturation, saturation color, levels, and transition into their next frame at any angle, position, and more with a click of a mouse. With up to 70 fully customizable presets the possibilities are endless.
With TransTypo users are given the ability to create their very own transition, or choose from up to 70 pre designed presets. TransTypo offers presets divided into 3 categories such as 3d rotation, the rotation category, or the simple transitions category. Each user has total control over the transition's end position, end rotation, transition type, transition time, and if that is not enough a background color gradient that will be shown in-between their two media types.
With TransTypo on-screen controls the user has full control over frame zoom, frame angle, and frame position with a click of a mouse. This gives the user the flexibility of how and when they would like their camera to react with their text. With TransTypo on-screen controls no transition will ever be the same all with in Final Cut Pro X.
TransTypo was professionally designed to work seamlessly inside of Final Cut Pro X. As a FCPX transition, each TransTypo preset can be dragged and dropped onto the users media and previewed in real time. With the published parameters found in the FCPX inspector, users have the ability to make adjustments with just a few clicks of a mouse.
Established in 2006, Aliso Viejo, California-based Pixel Film Studios is an innovative developer of visual effects tools for the post-production and broadcast community. Their products are integrated with popular non-linear editing and compositing products from Apple FCPX. All Apple, the Apple logo, Mac OS X, and Macintosh are registered trademarks of Apple Inc. in the U.S. and/or other countries. All other trademarks and trade names are the property of their respective owners.